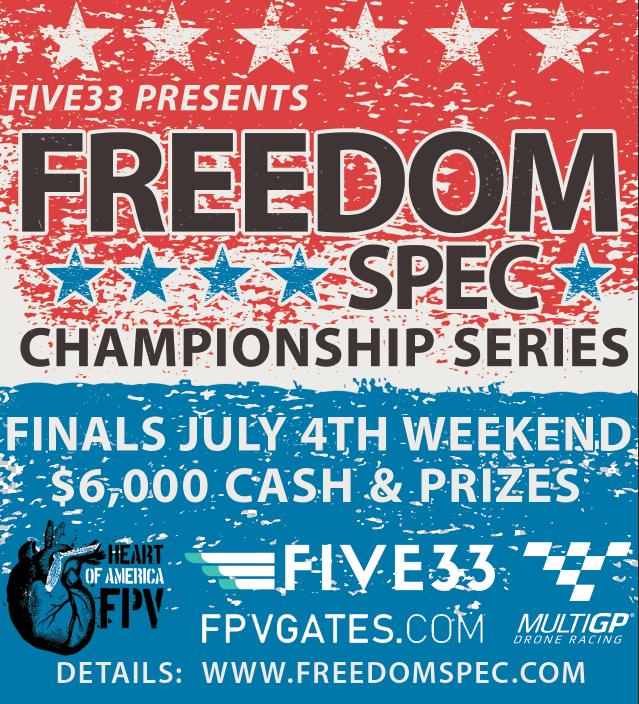 2021 Freedom Spec Championship
July 3, 2021 @ 8:00 am

-

July 4, 2021 @ 5:00 pm

EDT
Moberly, MO July 3rd & 4th, 2021
Our finals will take place July 4th weekend in Moberly, MO.  There will be an optional social event / fun fly at Heart of America field on Friday evening.  Pilots are welcome to come hang out, check in early and fly TinyTrainers.
Schedule
Saturday July 3rd
Qualifiers will start at 9am on Saturday.  We will be deciding later in regard to whether quals will run in groups or all in once.
Sunday July 4th
In the morning will likely be a type of last chance qualifiers for a portion of the field.  The Sport Class finals will begin around 1:00pm
Pro-bracket competitors will get 1-2 practice packs starting around 5pm then the Pro-bracket finals will begin a 6:30pm and we have a hard stop at 9:30pm
After qualifying on Saturday and Sunday morning, the field will be split into PRO and SPORT classes.  Each class will have a top 16 double elimination bracket.
The SPORT and PRO classes may not be split exactly 50/50.  We will make the decision of where the split will take place once registration is filled.  The goal will be to split the classes so the split is as close as possible to the PRO & SPORT classes of MultiGP.  We will announce where the split will be prior to the beginning of the event.  There will most definitely be a "valley" between the 17th seed pilot in the PRO class and the 1st seed pilot in the SPORT class.
*This is subject to change but the start and stop times are fixed.
Practice Track
The competition track will be located in the same place as last year but we are adding an additional practice track in another part of the park about a mile away from the race. Participants can use it to stay warm on the sticks, test quads without the worry of video, etc.  This track will not be the same as the competition track.
Freedom Spec Only
Unlike last year, this event will be only Freedom Spec.  This way pilots can focus on the primary discipline and compete at their highest potential.  TinyTrainer racing will be causal to anyone interest in the evenings at Heart of America Field.
Lodging and Camping
Unfortunately, lodging and camping are very limited in Moberly.  Our recommendation is to book your stay early if at all possible.  There is a Super 8 and Comfort Inn and both are relatively nice.   Contact the Moberly Parks and Recreation about securing a camp site in our park.