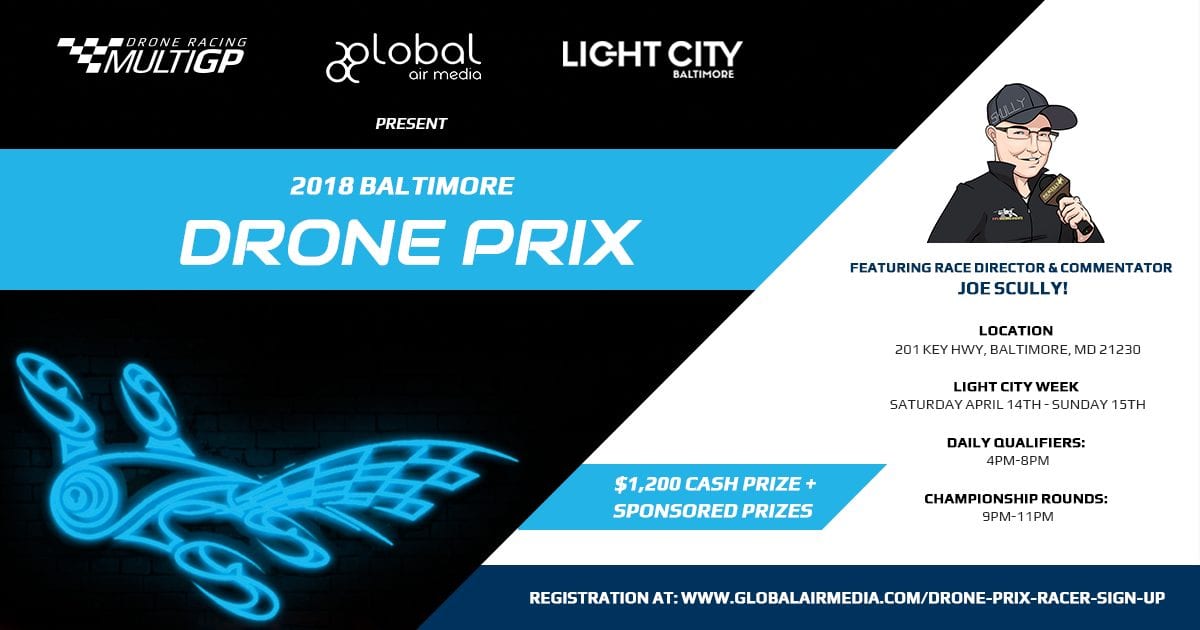 Light City's 2018 Baltimore Drone Prix
April 14, 2018 @ 12:00 pm

-

April 15, 2018 @ 7:00 pm

EDT
Event Details:
Event Name:  2018 Baltimore Drone Prix
FPV racing event with prizes. $1,200 cash prize plus sponsored prizes

held at Rash Field in Baltimore, Maryland

Featuring Race Director & Commentator Joe Scully!

Registration: http://globalairmedia.com/drone-prix-racer-sign-up
Event Date:  April 14th and 15th
Light City Week : Saturday April 14th – Sunday 15th

Daily Qualifiers: 4pm-8pm

Championship Rounds: 9pm-11pm



DRONES & ART COLLIDE AT LIGHT CITY! April 14th,15th & 21st
The 2nd Annual Baltimore Drone Prix will be held during the 2018 Light City Festival on April 14th, 15th and 21st. Global Air Media, the area's premiere drone services company, has partnered with The Baltimore Office of Promotion and the Arts to bring the historic drone race to the Inner Harbor. The race will feature a one-of-a-kind course, highlighted by illuminated, artistic obstacles on Rash Field. The events will take place over a 3 day period: preliminary races and championship rounds on April 14th and 15th, closing with a youth and amateur competition on Saturday, April 21st. The 2018 Baltimore Drone Prix will feature a $1200 grand prize for professional racers from around the region, as well as prizes for spectators and amateurs. A youth drone racing team from the Greenmount West Community will headline the amateur race. Amateurs are invited to enjoy a free fly session and test their skills on the course. The event is free to the public.
The amateur race will star The Flash, a team of local teenagers from Greenmount West Community Center, who are building their own racing drones as part of an 8 week training program. During their training sessions, they learn about drones and related STEM (Science Technology Engineering and Math) technology, as well as aviation safety, career opportunities, and entrepreneurship.
The 2nd Annual Baltimore Drone Prix will take place April 14th, 15th and 21st in the Inner Harbor, with preliminary races between 4-8 pm and championship rounds from 9-11pm. The 146ft long, 26ft tall race course will also function as an amazing attraction with large, illuminated artwork lining the course for the drones to dart around at breakneck speeds. Last year's races attracted over 500 spectators, including Baltimore City Mayor Catherine Pugh, who stated to the crowd, "It's only going to get bigger!". Light City 2018 is expected to attract over 500,000 visitors.
Global Air Media is one of the premiere drone companies in the US. The company brings unique experience to the classroom, having carried out drone missions on 4 continents, including disaster relief efforts in Puerto Rico and Bangladesh.
Are you interested in attending as a racer ? Sign up today here!
$1,200 in cash and prizes to the winners of the race, a raffle and other contests! *
* Registration for the race is an extra cost of $25; The amount of cash/prizes may vary based on participation.
Daily Event Schedule:
Tech Check (VTX output, Failsafe-props off) and Checkin: 3pm-4pm

Daily Qualifiers: 4pm-8pm

Daily Championship Rounds: 9pm-11pm
Event Address:
201 Key Hwy, Baltimore, MD 21230
Race Requirements:  
For best experience please have a 40 channel vTX capable of doing 25mw and/or 200mw.

25mW will most likely be the maximum power rating (to be confirmed on-site)

Antennae will alternate polarizations on channel assignments, please be capable of both LHCP, RHCP antenna

Ground stations will be available but not required to be used.

Pilots must have goggles or monitor that can accept an external source input if using groundstations
Race Specs:
Race Specifications/Classes: Open Unlimited 3-6 inch 2-4 blade props/3-6s battery types/120-290mm frame sizes/4-6 rotor

Additional details and participating pilot requirements:
Academy of Model Aeronautics (AMA) Membership:  We will be requiring a valid current AMA membership for all pilots who wish to fly at any of our organized public racing events. Register https://www.modelaircraft.org/joinnew.aspx?s=google
Race Format:
Fastest-3 Consecutive Laps, within 2 minutes, Best Round

5 Rounds of Qualifying (No set heats, Tablet System)

Top-16 Advance to Night's Championship

Double Elimination bracket of Top-16 Pilots each night  

The Top Pilot from Saturday Night & The Top Pilot from Sunday Night will compete Head-to-Head in a Best-of-three Round 3-lap Race for the title of Baltimore Drone Prix Champion and earn $1,200
Registration Cost:
$25 for one day or two (Event Price)

Spectators…Free

Get your tickets here!