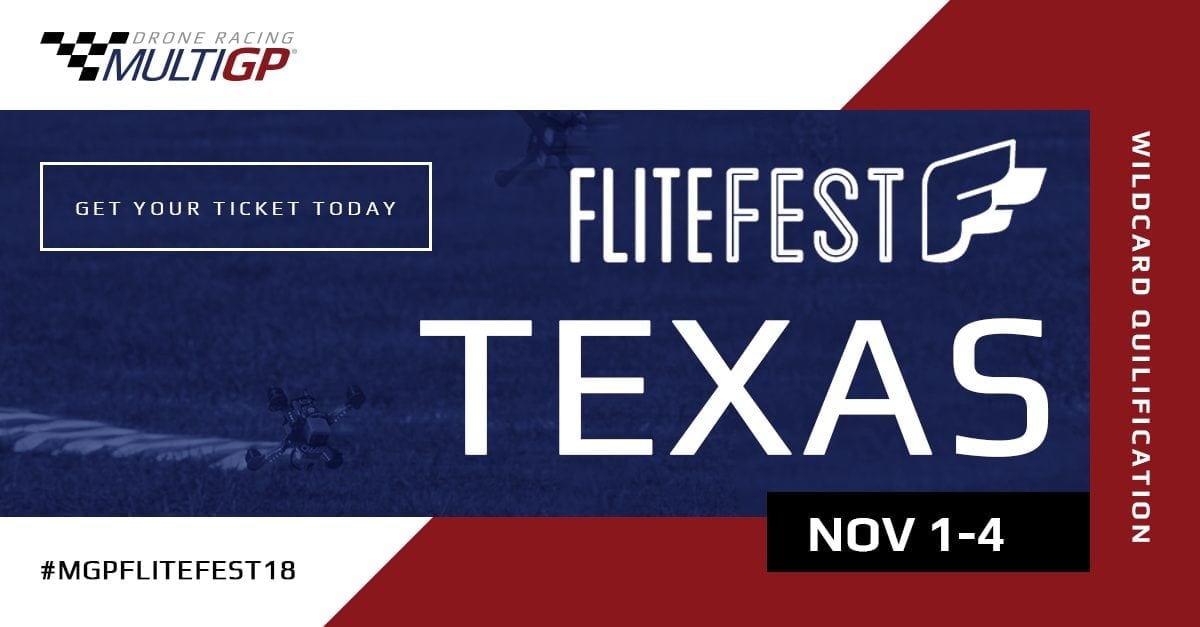 Flite Fest Texas
November 1, 2018 @ 4:00 am

-

November 4, 2018 @ 12:00 pm

EDT
Race Schedule:
Thursday, Friday, Saturday:

Open Flying/Qualifying 9am-12pm

Beginners/Intermediate race 12-1pm

Open Flying/Qualifying 1-4pm

Open Flying 4-5pm

Pro/Top 16 Double Elimination race 5pm-7:30pm

Saturday's Pro Champion earns the Wildcard Spot at the MultiGP Championship

Sunday:

Open Flying

Freestyle Competition 11am
Racing Format:
Register for Racing On-Site

Qualifying is based on Fastest Single Lap in the Beginners/Intermediate division and Pro Division.

Championships Beginners/Intermediate: Top 20 will advance in the Beginners/Intermediate (D, B, C, A-Main Ladder Format)

Championships Pro: the Top-16 will advance in the Pro Division, for a Double-Elimination bracket to the Final 4, with the Final-4 competing in a clean-slate "Chase the Ace" – first- to two wins Final.  Podium will be decided based on all finishes for the final-4 (may run 2-5 Races to decide top-3).
Event Address:
9112 N. FM 908




Rockdale, TX 76567 USA
Additional Details And Participating Pilot Requirements:
Ground Stations: We will provide ground stations, so you need to be ready to plug and play with your goggles.
40 Channel vTX/Antennas:  We require 40 channel compliant VTX's for our races. You must have 25mw capabilities. Please come prepared to change your vTX and/or the channel/band and/or the power of your vTX as needed for each race.  We also recommend having both RHCP & LHCP Antenna.