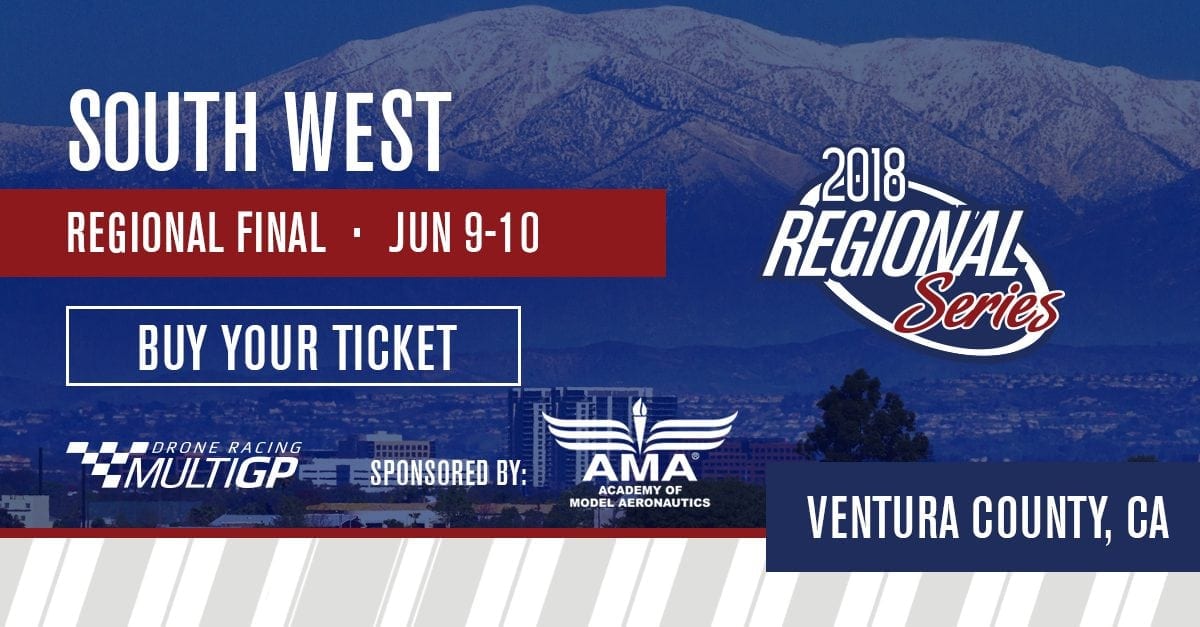 MultiGP 2018 South West Regional Final – Presented by The Academy of Model Aeronautics
June 8, 2018

-

June 10, 2018
$40.00
MultiGP 2018 South West Regional Final Live Stream
The qualifiers have been completed and the Southwest Regional Standings are locked in. The top 100 pilots are now invited to buy their ticket and come out to the beautiful Open Grove Raceway in Ventura County California.
Additional Details And Participating Pilot Requirements:
Ground Stations:
We will provide ground stations, so you need to be ready to plug and play with your goggles.
Academy of Model Aeronautics (AMA) Membership:  
We will be requiring a valid current AMA membership for all pilots who wish to fly at any of our organized public racing events. 
40 Channel vTX/Antennas:  
We require 40 channel compliant vTX's for our races. You must have 25mw and/or 200mw capabilities. Please come prepared to change your vTX and/or the channel/band and/or the power of your vTX as needed for each race.  We also recommend having both RHCP & LHCP Antenna. NOTE: Come prepared or you will not be able to race!
Lodging:
Host Hotel:

 

Quality Inn and Suites of Camarillo

984 West Ventura BLVD

Camrillo CA 93010

Call 805-987-4188




Continental breakfast in the morning free




Free wifi

Code to use: MultiGP Regional Final

½ mile camarillo downtown and 100 resteraunts

quality inn & Suites 805-987-4188 sandip elma

CA 93010

Hotel phone number:  

805-987-4188

Hotel contact:  Sandip
Food:
Food trucks will provide food options for purchase.
Race Format for Regional Finals
Qualifying:
Best 3 out of 5 rounds.   
Completed Laps counted

Fixed time: 2 minutes

Finish last lap after timer sounds and count if finished

Ties are determined by lowest time

Heads up start (no staggered start)
Mains:
The Top-32 pilots of the Regional Final advance to a double-elimination bracket.  Based on finish ranking, the top-6 eligible pilots (not standby pilots) will advance to the MultiGP Championship as Finalists.  Positions 7-12 (not standby pilots) will advance to the MultiGP Championship as Contenders. The Top-3 after the final race will be recognized for podium placement and awards.    
Tone Start

First to X Laps (X is TBD)
The remaining 13-100 pilots (not standby pilots) will be added to "The List" following the Mains.
Classes
Only 1 class is run: Open (Props, LiPo, Motors)
Schedule
Saturday
8a – 9:15a Registration & Tech Inspection
9:30a Pilot Briefing
10a – 1p Group A (2 Practice, 3 Qualifiers)
1p – 3p Group B (2 Practice, 3 Qualifiers)
3p – 6p Group C (2 Practice, 3 Qualifiers)
Sunday
8a – 11a Qualifiers (2 Rounds)
11a – 3p Top-32 (Heats of 4)
3p – 3:30p Podium
Inclement Weather Provisions:
Plan A: One Day Program consisting of 2 Practice, 3 Qualifiers, Final Ranking generated from Qualifying List
Plan B: Ranking is final based on the last fully complete round, factoring in one drop, i.e. best 2/3