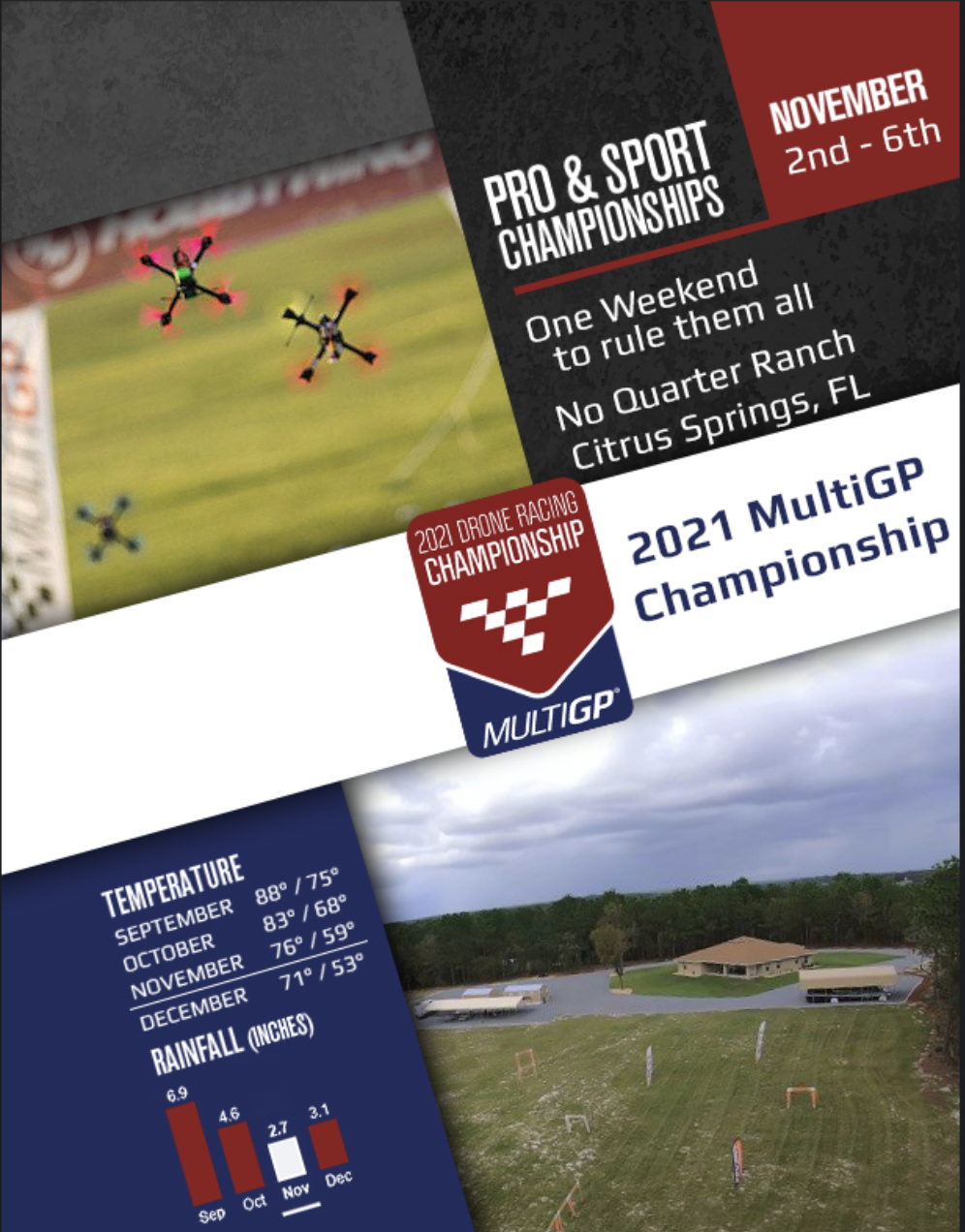 The 2021 MultiGP Drone Racing Championship
November 2, 2021

-

November 6, 2021
$100 – $150
MultiGP is excited to announce The 2021 MultiGP Championship, November 2nd through November 6th, 2021.
This year 736 pilots showed up to get their name on "The List" and a chance to compete in the MultiGP National Championship.  It is time to invite pilots down to Citrus Springs, Florida at the No Quarter Ranch for this year's National Championship.  The championship will be a one-week event starting on Nov 2.  November 2 and 3rd will be the Sport Championship with the 4th a rain delay day.  Then the Pro event will start on November 4 and conclude under the lights on Nov 6th, with the 7th as a rain day if needed.
Pro Class and Sport Class Championship Weekend
Tuesday, Nov 2 through the 3rd Sport Class pilots will battle it out in the first Sport Class Championship since COVID rocked the world.  The sport class is a very close group, with over 30 pilots within 2 seconds of the TQ Jerrod 'Jrod' Quillen.
Starting Nov 4, pilots from around the country will head to Citrus Springs, Florida to battle against the Top Qualifier GQ Qualifier Levi "Leviathann" Johnson at their shot at $2,000 for first place at this year's Pro Class champs! Thursday Nov 4 to Saturday Nov 6 (Rain Date Sunday Nov 7) the top-150 ranked Pro Pilots will compete on two different tracks, with the field gradually being narrowed to the Top-16 pilots to compete for the Pro Class Championship.  Will it be the back-to-back 2-time MultiGP Champion Evan "HeadsupFPV" Turner who is looking for redemption this year,  or will we see Soren "phatkid" Monroe-Anderson take the ship again.  Who knows, it could be another new MultiGP Champion, perhaps the Sim Racing sensation and Top-Qualifier Beckett "Noical" Verrilli.
Pack-After-Pack of Practice, Qualifying and Brackets!!!
In addition to the primary championship finals, "the next…" format returns to recognize the champions and top-ranking qualifiers of tomorrow. Each group will have a secondary championship for "the Next 40", positions 41st through 80 in qualifying of the 150 in Pro Class, resulting in non-stop action all weekend long, and two "blade-to-blade" top-16 double elimination brackets with Chase-The-Ace Grand final races!
Eligibility
Pilots ranked within the top-150 on the Global List as if September 6th, 2021 are eligible to attend the 2021 MultiGP Drone Racing Championship Pro Class Weekend (Nov 4-6)
The first 100 sport pilots 151-250 will be invited and possibly, more to fill the vacancies! Pilots have until Oct 10th to purchase or decline their ticket before they forfeit any qualifier benefits, i.e. T-Shirts, or the position as a Sport Pilot.
Pro Class Prize Purse
Pro Class 
1st – $2000
2nd – $1000
3rd – $500
4th – $500
5th – $250
6th – $250
7th – $250
8th – $250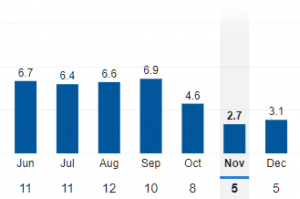 Beautiful Weather
November in Florida boasts some of the best temperatures and lowest rainfall of any month. While the rest of the country is bundling up for winter, pilots at the championship will enjoy temperatures between 70 and 80 degrees and a historical average of 2.1 inches of rain (the lowest per month).
Schedule
Sport Schedule.  
Day 1 will be practice and qualifying with a pack count of 8-12 depending on total attendance.  Then on day 2, we will crown a Next-40 Champion and the Sport Class Champion.  Pack count on this day should be around 4 minimum.
Pro Schedule
Day 1 and 2 will be for qualifying on 2 different tracks, with roughly 4 packs each day on each track for a total of roughly 8-10 on each day.  On Saturday a Next-40 Champion Bracket race will be run, followed by the Championship under the lights!  Do well on this day and you are going to get 6-8 packs in, worst case scenario around 4 packs.
* schedule subject to change, Sunday may be included as a rain date.
Hotel Information
Comfort Suites near Rainbow Springs $94

Quality Inn Conference Center at Citrus Hills, $99

Holiday Inn Express Hotel & Suites of Crystal River $119

Holiday Inn Express Hotel & Suites of Inverness $150
Join our Volunteer Team!
Our events are definitely a passion project for our team, and we are once again looking for a few team members to join us in 2021 at Champs as part of our Volunteer Crew.  Volunteers will receive T-Shirts, and an experience like no other. Our FREE Volunteer registration is available here: https://www.multigp.com/2021-championship-volunteer/
---
Thanks to our sponsors: