The 2022 MultiGP Drone Racing Championship
The 2022 MultiGP Drone Racing Championship
October 18 @ 8:00 am

-

October 22 @ 10:00 pm

EDT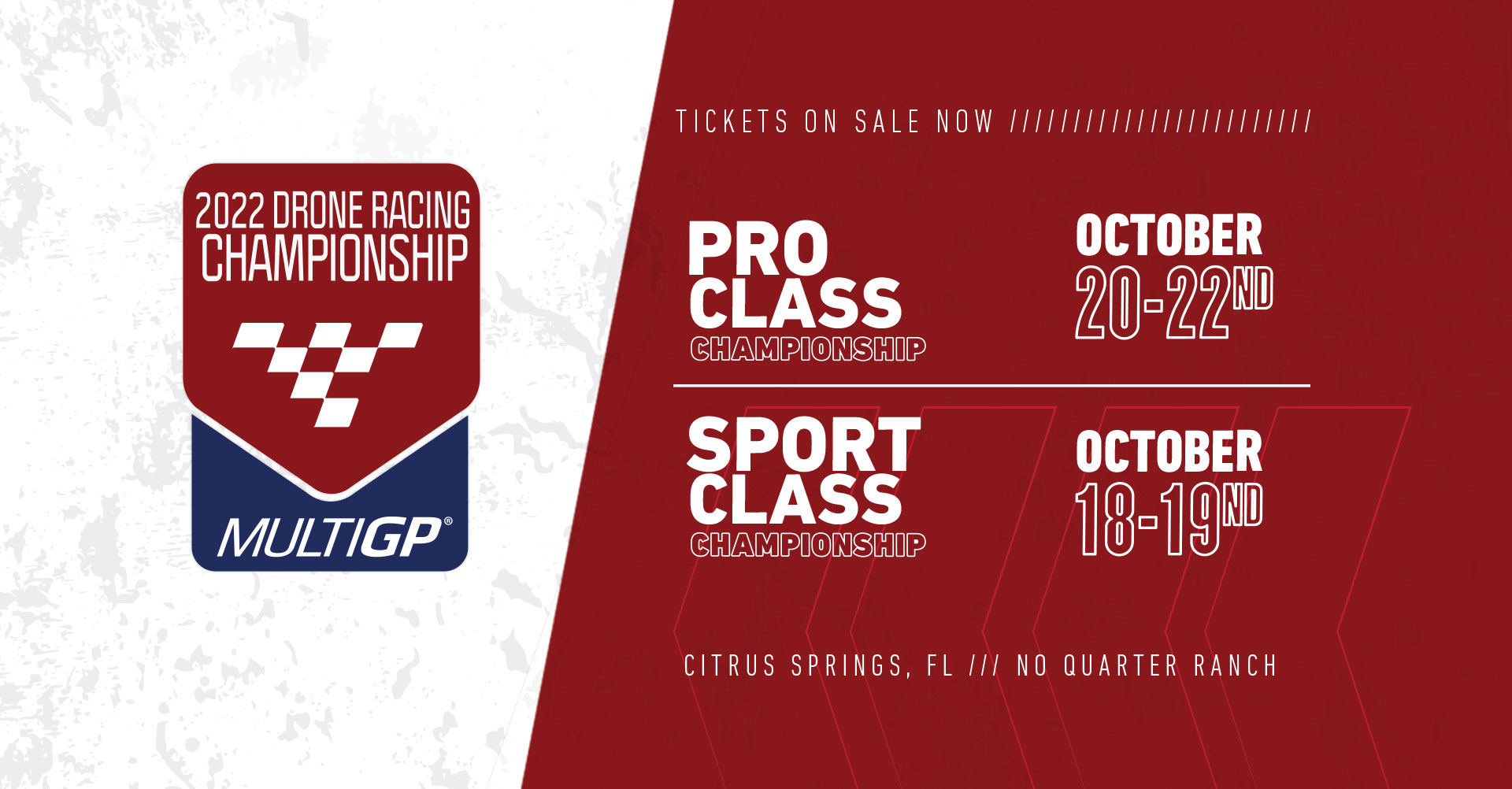 Welcome to the 2022 MultiGP Drone Racing Championship
MultiGP is excited to announce The 2022 MultiGP Championship, October 18th through October 22nd, 2022.
This year 710 pilots showed up to get their name on "The List" and a chance to compete in the MultiGP National Championship.  It is time to invite pilots down to Citrus Springs, Florida at the No Quarter Ranch for this year's National Championship.  The championship will be a one-week event starting on October 18.  October 18th and 19th will be the Sport Championship with the 20th a rain delay day.  Then the Pro event will start on October 20 and conclude under the lights on October 22th, with the 23rd as a rain day if needed.
Pack-After-Pack of Practice, Qualifying and Brackets!!!
In addition to the primary championship finals, "the next…" format returns to recognize the champions and top-ranking qualifiers of tomorrow. Each group will have a secondary championship for "the Next 40", positions 41st through 80 in qualifying of the 150 in Pro Class, resulting in non-stop action all weekend long, and two "blade-to-blade" top-16 double elimination brackets with Chase-The-Ace Grand final races!
Eligibility
Pilots ranked within the top-150 on the Global List  are eligible to attend the 2022 MultiGP Drone Racing Championship Pro Class Weekend
The first 100 sport pilots 151-250 will be invited and possibly, more to fill the vacancies!  Sport pilots 151-250 have exclusive access until Friday September 9th to purchase their ticket,  at which time we will open up Sport ticket sales to all who have participated in a Global Qualifier and are Sport Class ranked.
Orders must be placed September 26th to receive a T-Shirt
Final cut off to purchase tickets is October Friday 14th
Schedule (weather permitting)
Sport Schedule.  
Day 1 will be practice and qualifying with a pack count of 8-12 depending on total attendance.  Then on day 2, we will have a 'Next' Bracket (for those not in the top bracket)  and the Sport Class Champion.  Pack count on this day should be around 4 minimum.
Pro Schedule 
Day 1 and 2 will be for qualifying on 2 different tracks, with roughly 4 packs each day on each track for a total of roughly 8-10 on each day.  On Saturday a Next-40 Champion Bracket race will be run, followed by the Championship under the lights!  Do well on this day and you are going to get 6-8 packs in, worst case scenario around 4 packs.
Your qualifying time will be your fastest 3 laps of each track combined.
| | | |
| --- | --- | --- |
| Day/Time | Track 1 | Track 2 |
| Thursday Morning | Group A | Group B |
| Thursday Afternoon | Group B | Group A |
| Thursday Evening | Group A and B | N/A |
| Friday Morning | Group B | Group A |
| Friday Afternoon | Group A | Group B |
| Friday Evening | Group A and B | N/A |
| Saturday Morning | Next 40 Brackets | N/A |
| Saturday Afternoon | Top 40 Brackets | N/A |
| Saturday Evening | Top 16 Brackets | N/A |
* schedule subject to change, Sunday may be included as a rain date.
Event Locations
Sport Class / Pro Class Track 1: 7750 N Pocono Drive, Citrus Springs FL 34434
Pro Class Track 2: 3494-3798 W Educational Path, Lecanto FL 34461
Hotel Information
Comfort Suites near Rainbow Springs

Quality Inn Conference Center at Citrus Hills,  

Holiday Inn Express Hotel & Suites of Crystal River  

Holiday Inn Express Hotel & Suites of Inverness  
To purchase tickets, go to this link -> Tickets
Details
Start:

October 18 @ 8:00 am

EDT

End:

October 22 @ 10:00 pm

EDT