We brought back a classic and one of the most popular tracks at an IO ever! The Groovy 2021 GQ submission!  We modified this track with championship size gates and increased the spacing!  This track will fit every skill level and a great place from beginner to pro to get some packs in!  We will also feature a Five33 Freedom Spec Oval Race on this track!  You must be flying Freedom Spec settings for this race, available here, https://freedomspec.com/the-spec.  All tracks are open from 10A-6pm, unless a specific event below is listed.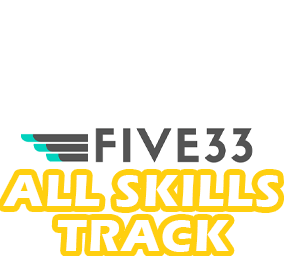 COMPETITIONS ON THIS TRACK
Five33 presents the Freedom Spec Oval Race. This will be a very easy course that is pretty much just KAACK KAACK KAACK, (full throttle) the whole time!  Make sure you are running the Freedom Spec and 180 for the RPM Limit!
A quick recap is below of the spec but for full information visit Freedomspec.com.
Requirements:
533g Minimum Weight

Five33 Headsup 2207 1960kv Motors

HQ R38 Headsup Prop

3 or more (non-status) LEDs

Any 6s Battery

Any BLHeli32 or AM32 ESC

Betaflight KAACK (Version 4.4.x KAACK)

RPM Limit of 18,000 which is "180" set in the firmware
Qualifying
One hour of ZippyQ
Tone Start
Lap 1's time will start at Start/Finish Gate (like Global Qualifier)
Fastest Laps 
Finals
Tone Start
Approximately 90 seconds – 120 seconds in Duration
Single Elimination Top 16 Bracket
Let's race!  The idea for the group races is that using predetermined data we can group pilots to provide more actual drone racing at IO then drone qualifying.  When the group races are scheduled to start, there is no qualifying or practice, it's RACE TIME!  So be at the track 30 minutes early to check in!
Requirements:
800g or less

No battery limit. 

No prop limit
Qualifying Heats:
Format:

Triple run mains,  to a final main

2 Lap Race

Pilots are randomly assigned into one of 6 subgroups of up to 8 pilots. 

Each subgroup will race 3 times. The winner of the subgroup will be determined by combined finishing position in all 3 races. The tie-breaker is the pilot with the  best single finishing position (1-2-3, beats a 2-2-2) . If there is still a tie, then the best laps/time from the best finishing position run is the final tie breaker

Subgroup winners will advance to the A-Main event for 3 races, which will follow the same format to determine the winner of this group race.
Or if 32 or less A Double Elimination format may be used.
MultiGP IO 2023 Five33 All Skills Track by Groovy