As week 3 of the 2018 Swatch DRL Tryouts comes to pass, the leaderboard times are getting closer as MultiGP pilots compete for multiple exclusive prizes.
MultiGP Pilots Still Command the Leaderboard
MultiGP pilots are still holding a commanding 22 of the top 24 spots on the Leaderboard, with hundreds of MultiGP pilots flying hard to win exclusive prizes available only to MultiGP pilots. The top 20 MultiGP Pilots during the Tryouts will receive MultiGP & DRL branded Start/Finish gates for their local chapters and local races. These pilots will be providing their local MultiGP race chapter with drone racing track obstacles that help keep the chapters competing. Race gates and flags are a valuable asset to any chapter, so having spares is even better!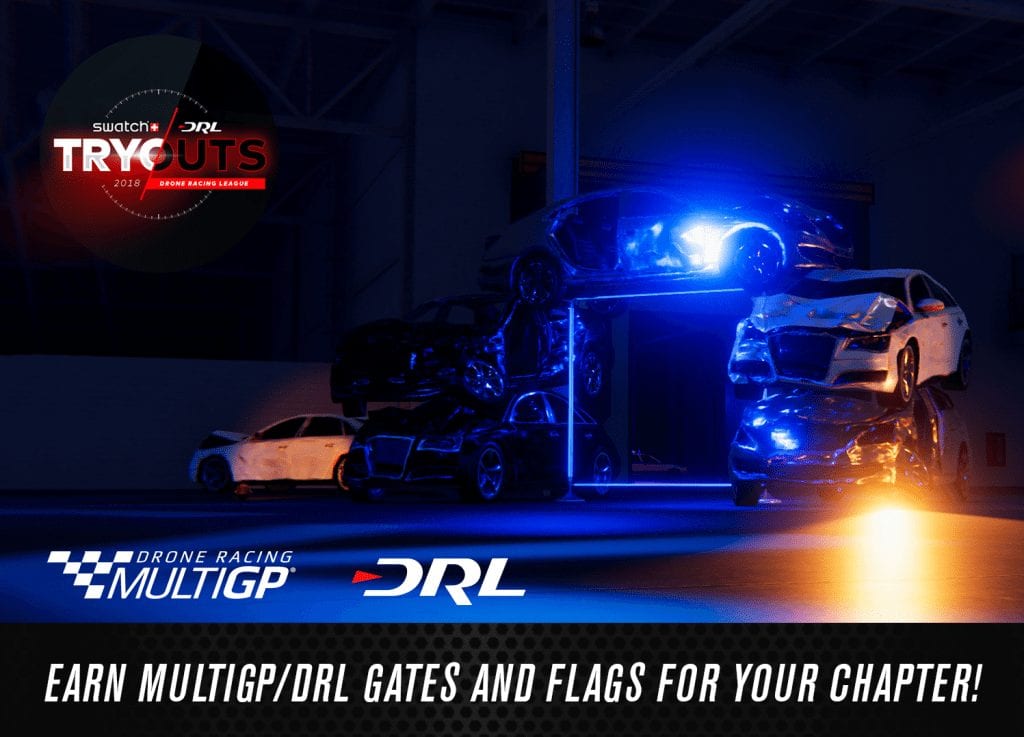 Week 3: The Times Are Getting Closer…
In Week 3 of the 2018 Swatch DRL Tryouts, the top 5 spots are less than 20 seconds apart. MultiGP pilots hold 4 of the top 5 spots, and ROBOGENISIS is still in position #1. ROBO shaved .62 seconds off of his top time from last week, as he continues to dominate the Leaderboard. Two new MultiGP pilots entered the top 5 last week. DOLMAFPV and KADO sped their way into the top 5, pushing out KRUEL and BKFPV.
ROBOGENISIS (03:13:58)

UNKNOWN
PEWPEW (03:18:34)
DOLMAFPV (03:28:07)
KADO (03:33:20)
Will ROBOGENESIS Keep Dominating?
One thing is for certain, ROBOGENISIS is a complete master of the DRL Simulator. He holds multiple top times across the DRL Simulator Leaderboards and is only picking up the pace. So, do you have what it takes to challenge ROBO? There is only one way to find out! Download the DRL Simulator today on Steam. Start putting in laps and you might be the next professional drone racer in the DRL!
About MultiGP:
MultiGP is the largest professional drone racing league in the world. Because of this, MultiGP hosts frequent competitive gatherings and casual events within its extensive network. The Organization currently has over 20,000 registered pilots in addition to 500 active chapters worldwide. MultiGP nurtures its Chapters by providing tools, guidance and community support. These programs make drone racing fun, organized and rewarding for pilots, Chapter Organizers, and spectators. MultiGP has created multiple programs designed to allow the drone racing community to compete in an easily accessible yet structured format. Because of MultiGP's efforts, it is the Academy of Model Aeronautics Special Interest Group for First Person View (FPV) Racing. For more information, go to www.MultiGP.com.
To learn more about MultiGP drone racing, and how you can get involved, join us on Facebook – https://www.facebook.com/groups/MultiGPCommunity/ and on Twitter – @Multi_GP