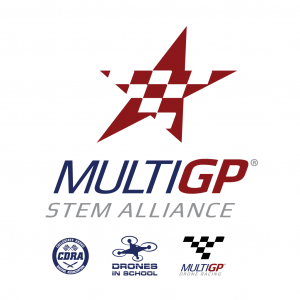 Drones in School, The Collegiate Drone Racing Association (CDRA) and MultiGP are very proud to announce the formation of the MultiGP STEM Alliance. STEM (Science, Technology, Engineering and Math) education is critical for the future of our youth and communities, and there is nothing that gets young people more excited about STEM than the futuristic sport of drone racing. With a focus on students at the middle school, high school and college levels, the MultiGP STEM Alliance is dedicated to the mission of using drone racing to foster the growth of STEM education.
Drones in School is the premier non-profit drone education organization in the US, with over 50 schools already participating in their Drone STEM programs, and with extensive expertise in online education and drone tech curriculums.
The Collegiate Drone Racing Association (CDRA) is the home of the College Drone Racing Championship.  It is the world's largest academic drone racing association, with extensive experience in bringing the sport of drone racing to educational institutions.
MultiGP is the world's largest drone racing organization, with over 30,000 members and over 700 chapters around the world. MultiGP is also the home of the MultiGP Global Qualifiers and Championship, the pinnacle of open drone racing competition in the world, crowning the world's only true drone racing world champion.
The MultiGP STEM Alliance will soon be unveiling a full curriculum for after-school drone racing STEM programs, as well as other programs intended to help bring more students and academic institutions into the exciting sport of drone racing.
For more information and to get involved, please visit https://www.multigp.com/stemalliance or email us at [email protected].