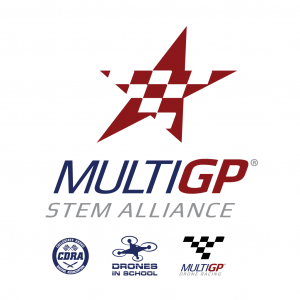 Drones in School, The Collegiate Drone Racing Association (CDRA) and MultiGP are very proud to announce the formation of the MultiGP STEM Alliance. STEM (Science, Technology, Engineering and Math) education is critical for the future of our youth and communities, and there is nothing that gets young people more excited about STEM than the futuristic sport of drone racing. With a focus on students at the middle school, high school and college levels, the MultiGP STEM Alliance is dedicated to the mission of using drone racing to foster the growth of STEM education.
Drones in School is the premier non-profit drone education organization in the US, with over 50 schools already participating in their Drone STEM programs, and with extensive expertise in online education and drone tech curriculums.
The Collegiate Drone Racing Association (CDRA) is the home of the College Drone Racing Championship.  It is the world's largest academic drone racing association, with extensive experience in bringing the sport of drone racing to educational institutions.
MultiGP is the world's largest drone racing organization, with over 30,000 members and over 700 chapters around the world. MultiGP is also the home of the MultiGP Global Qualifiers and Championship, the pinnacle of open drone racing competition in the world, crowning the world's only true drone racing world champion.
MultiGP STEM Alliance Academic Challenge VelociDrone™ Tutorial by Jordan Krueger
Get started by joining a MultiGP STEM Alliance Program
   Middle School and High School
Download and review the Drones in School 

Season Guide
Register your team(s) with Drone in School
Look up participating schools, teams and events at RACES
   College and University
  Junior Racer STEM Kit
Coming Soon from the MultiGP STEM Alliance
Global Academic Leaderboards
Academic UTT (Universal Time Trial) Track(s)
Academic Chapter Signups
STEM Racing Class Specification
Academic Championship!
For more information and for general inquiries regarding the MultiGP STEM Alliance, please Contact Us!