Forecast rain had a few of the Global Qualifiers re-schedule until later weeks, with just three qualifiers proceeding the week of June 8th and 9th. Week #12 also presented itself as the mid-way point for qualifying, with just another 12 competition weekends left until "the List" will be complete!
Saturday, Mighty Drones hosted a Global Qualifier in Delano, Minnesota while Full Tilt FPV Racing hosted a qualifier in Schenectady, New York. Sunday, QRGOhio hosted their first Global Qualifier of 2019 in Louisville, Ohio. In total, 81 pilots competed this past weekend at one of the three qualifiers, including 60 pilots not previously ranked on the Global Qualifying Ranking or "the List".
QRGO raised the bar for 2019 MultiGP Series Qualifier attendance. Setting a cap of 40-pilots during the registration process, they achieved the limit of registrations and opened a waiting list.  They exceeded the previous record of 28 pilots this season.  Seeing the excitement in Ohio to rank pilots, Robert "CaptainUno" Pringle, always known for his support of the community asked QRGOhio Chapter Organizer Paul "Seeker" Adkins if there was anyone on the waiting list in attendance that could break the top-200. They identified Joe "Turbojoe" Ring as a good prospect, so Uno gave his spot to Turbojoe… and TurboJoe delivered, posting a 59.4 to start off ranked 113th Globally on "the List".
3 laps 59.428864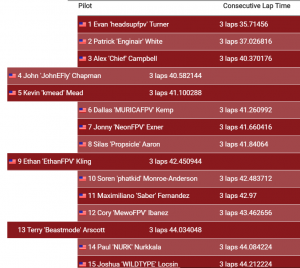 With 60 new pilots competing this past weekend, 36 of them shuffled into the Pro Class rankings (top-200) on their first effort, with the top pilot at the Mighty Drones Qualifier, Johnny "Wiita" Wiita jumping to 50th Globally with a 49.6 Fastest-3 Laps effort, of a 16.9, 16.9 and 15.6 on laps 4-6 in Qualifying Round 4. Meanwhile, at the QRGOhio Qualifier, Terry "Beastmode" Arscott posted a 44.03 effort to start his season off ranked 13th Globally and Kevin "kmead" Mead broke the top-5 Globally, with his run of 41.1 Fastest 3 Consecutive (13.6, 13.5, 13.9 seconds on laps 2-4 on a 6 lap 90-second effort. The biggest start of the series so far goes to John "JohnEFly" Chapman, the 2nd runner-up at the 2018 MultiGP International Open World Cup who finished top-25 in the MultiGP Championships in 2018 as well. He posted a Fastest-3 Consecutive Lap score of 40.582 (13.7, 13.6, 13.1 laps 3-5) to launch himself into 4th Globally in qualifying round #2, only his second official pack on the track in 2019!
Over the weekend 21 pilots returned to compete on the Global Qualifying Track to better their previous scores and 15 were successful. A majority of the "biggest moves" transpired at the Full Tilt Qualifier with Michael "Taael" Tang moving up 38 spots into the top-100 with a 54.8 Score, TIM "timbo_fpv" AMERO moved from just outside of the top-75 to 38th with a 48.2, Noah "NOSSFPV" Ossanna moved up 53 spots into the top-100 into 50th with a 50.1, and Ethan "EthanFPV" Kling one of last year's wild cards moved up from 50th to the top-10 with a 42.45 to rank him 9th Globally. Also making a big move, Andrew "Cappy_One" Coppola moved from 102nd to 45th with his 50.5 at the QRGO Qualifier.
Reviewing the entire Global Ranking, with the top-200 positions being invited to the MultiGP Series Pro Championship, the cut-off moved up almost 7 seconds from last week to 3 laps in 1:13.501, while the next-100 positions being invited to the MultiGP Series Sport Class Championship span from 3 laps 1:13.671 (an average of 24.5 seconds/lap) to 3 laps 1:58.198 (an average of 39.39 seconds/lap). This now "fills the grid" as "the List" grew from 293 pilots ranked after completing 1 lap or more to 353 pilots now ranked Globally on "the List."
Next weekend, Week #13 will see 4 Qualifiers all on Saturday, in Albuquerque, NM; Sanford, NC; Mobile, AL; and Ottawa, Ontario Canada.