2022 MultiGP Series Global Qualifying Track Diagram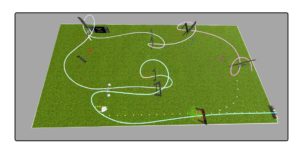 We are happy to announce the track diagram for the 2022 MultiGP Global Qualifier Track designed by AyyKayyy aka Anthony Knight.  This track is also available on Velocidrone under pilot name TC_AyyyKayyy.
This track requires 10 gates, 5 flags, 1 hurdle and an available field approximately 100'x200′ (60.96m / 30.48m).  Please follow the guidelines in the 2022 Rules and Regulations for these official events.  The notes on the images provide guidelines for obstacle construction. Once you have laid out the course, you must submit the measurements requested on the verification form linked below.  Once you have received the approval response from the form you may begin your competition!