Wow what a memorable event and what a successful turnout at the MultiGP International Open this year. Hundreds of pilots from all over the world flocked to the Hoosier state at the massive headquarters of the academy of model aeronautics in Muncie, Indiana this month. Pilots traveled from all corners of the globe including Norway, Ecuador, Mexico, Canada, Australia and even Turkey to be a part of the biggest FPV gathering worldwide. MultiGP thanks everyone who joined us at I.O. And for the few that couldn't make it, there's always next year. In fact, you can visit our website at multigp.com right now and purchase your ticket to I.O. 2019.
Here's how much fun we had at #mgpio2018. 10 great tracks. 1200 acres of flying heaven. 5 days of nonstop, full send, rippage We visited the Academy of Model Aeronautics in Muncie Indiana, home of the biggest FPV gathering on the planet. Check out the 10 epic tracks we had set up. Sponsored by Team Black Sheep This is the freestyle track.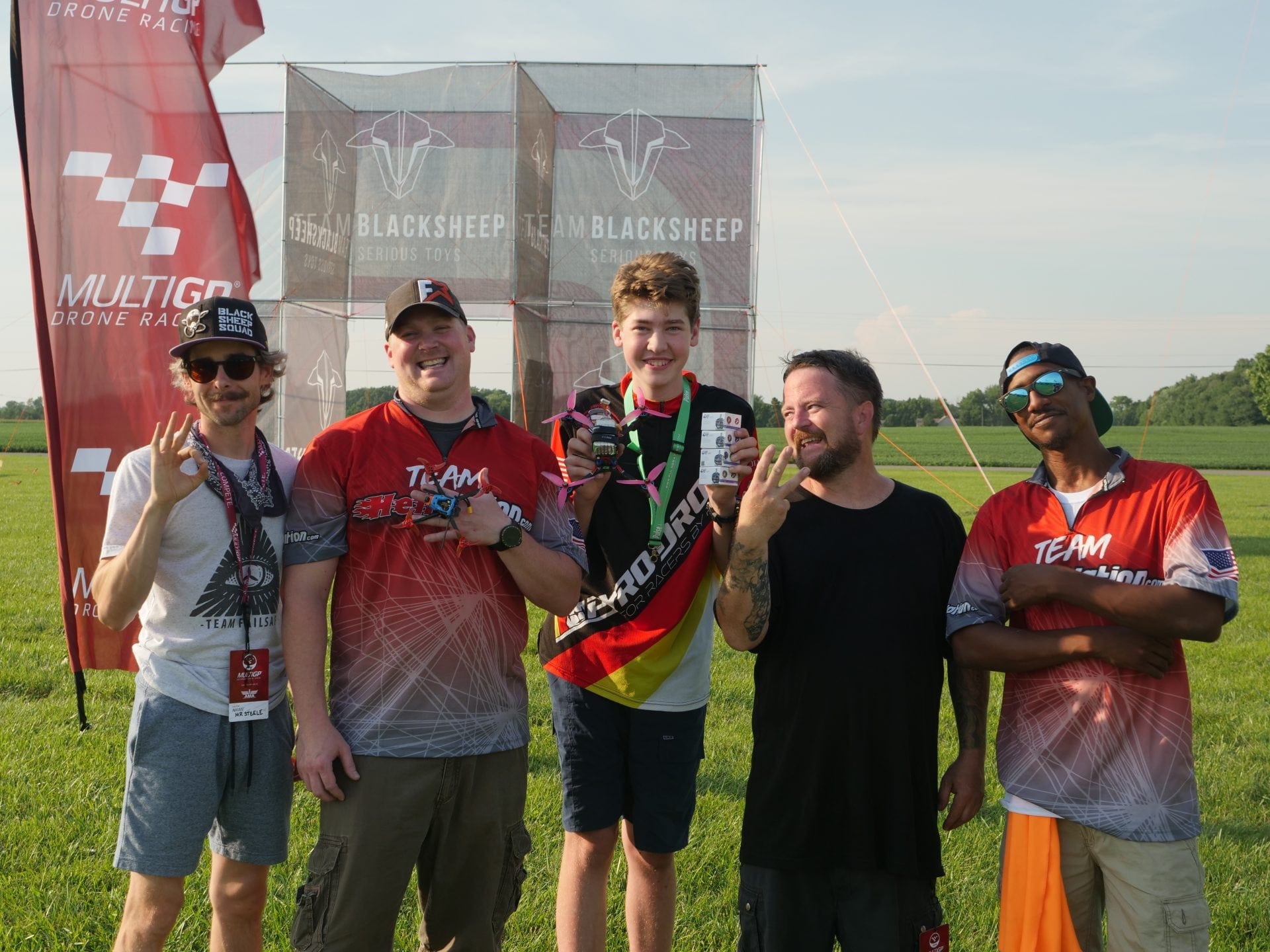 Sponsored by drone college here is where all the team racing went down including memorizing X class team races. This is the team track where all the races were intense to say the least.
Take a look at these humongous drones. Team Heart of America and the Central Illinois Drone Racers gave us quite a show after a seriously dueling it out for the top spot. Team Canada was ahead from the get go and took honors in the race like champs. Way to go team Canada! Here are team racing standings.
Team
Team Canada
Heart of America
Cincinnati Drone Racers 
M Ba
FPV Direct
Kwad Rivals
White Goat
TBS
Demon Power Systems
Detroit MultiRotor B
HeliNation
Detroit MultiRotor A
HobbyWing
EMax
House of Kwad
Kwad Rivals
More racing on team track. Next,  X-class racing. Their big rigs are definitely one to remember, watching the giant drones shredded the course. Here are the results for x class.
X-Class
Jon Gaiser
Lucas Dearborn
Jay Day
Colby Curtola
Kelsey Allen
Nathan DuCray
Josh Close
Kris Kleva
Matthew Tickel
Andrew Wiebold
Zoe Stumbaugh
Dave Schlitter
Evan Turner
Chris Grenner
Kele Stanley
Sponsored by Emax, the spec competition took flight on a magnificent spec track and boy did that drone racing have everyone at the edge of their seats! Here are the results for SPEC race.
Spec:
Evan "HeadsupFPV" Turner
Michael "FPVDoug" Douglas
Eli "Bull-FPV" Abitbol
Mark "McGap" Braymer
Anthony "AKnumbers" Kuhns
Zach "FalconX" Carlson
Jerrod "Jrod" Qullien
Patrick "Enginair" White
Sponsored by Video Aerial Systems, the Wing track was pretty exciting to watch and even more thrilling for pilots to race. Here's big shout out to Shelby and I B Crazy for holding down the epic Wing track.
The World Cup 1 track was definitely a hot spot. Sponsored by our very good friends at Team Black Sheep the World Cup Race was sizzling — literally. What a race, what a battle, meet your 2018 world cup champion! Here are the overall results
WC Track:
HeadsupFPV
 Billster
 JohnEFly
 FPVdoug
 LOLDERS
 EthanFPV
BullFPV
 Ghostish
The HobbyWing World Cup 2 track gave pilots more packs to burn and tons of flying time. The HobbyWing World Cup track was all about flying!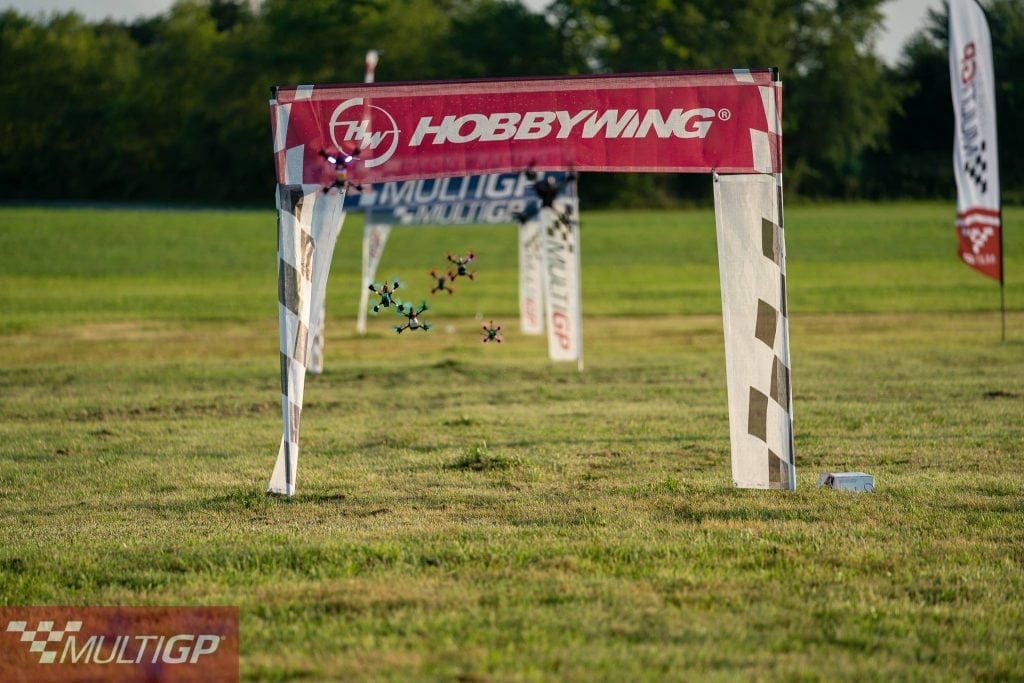 And don't look at the size of the drone. These tiny quads are fast. This is the micro track. DRL pilot Nubb ripped it up on the track with tunnel vision for first place on the micro. Here are the micro results
Micro:
Nubb
Rathbourne
The_Herder
AKnumbers
NeonFPV
K1NG
CarbonFire
SethPV
The Rookie track was another popular spot. Pro Indy 500 race car driver Gabby Chaves showed up to defend his title taking first in the intermediate class. Great gabby! #gogabbygo Here is the full list of results
Rookie Track:
Cannonball
Dave_J
PolloLoco
Otter
EZ_FLyer
DoALoop
DanDanTheMattressMan
TheRealRickyBobby
The FAI race was exhilarating to watch with all the junior and female pilots competing for their chance represent team USA in Shenzhen China. The competition was close. Congratulations to all!  Now let's meet team USA, William Schuett, Tristin Gilbert, Kevin Mead, Christopher Hartman, Jessika Farrar.
And when the sun when down, pilots migrated to the led night track where quads flew under the lights. Sponsored by Progressive RC the led track attracted everyone after hours.
The night owls also gathered at the after-hours track better known as the tiny whoop heaven. A big shout out to our good friend Jessie P. Who set up a sick tiny whoop world for everyone to enjoy. What a day! Our very own Joe Scully also competing in the whoop race final. Here are the results for the tiny whoop final
Tiny Whoop:
Phluxy
SFPV
AlienWhoop
Don't miss out on this EPIC FPV event next year. Purchase your I.O. 2019 tickets NOW!