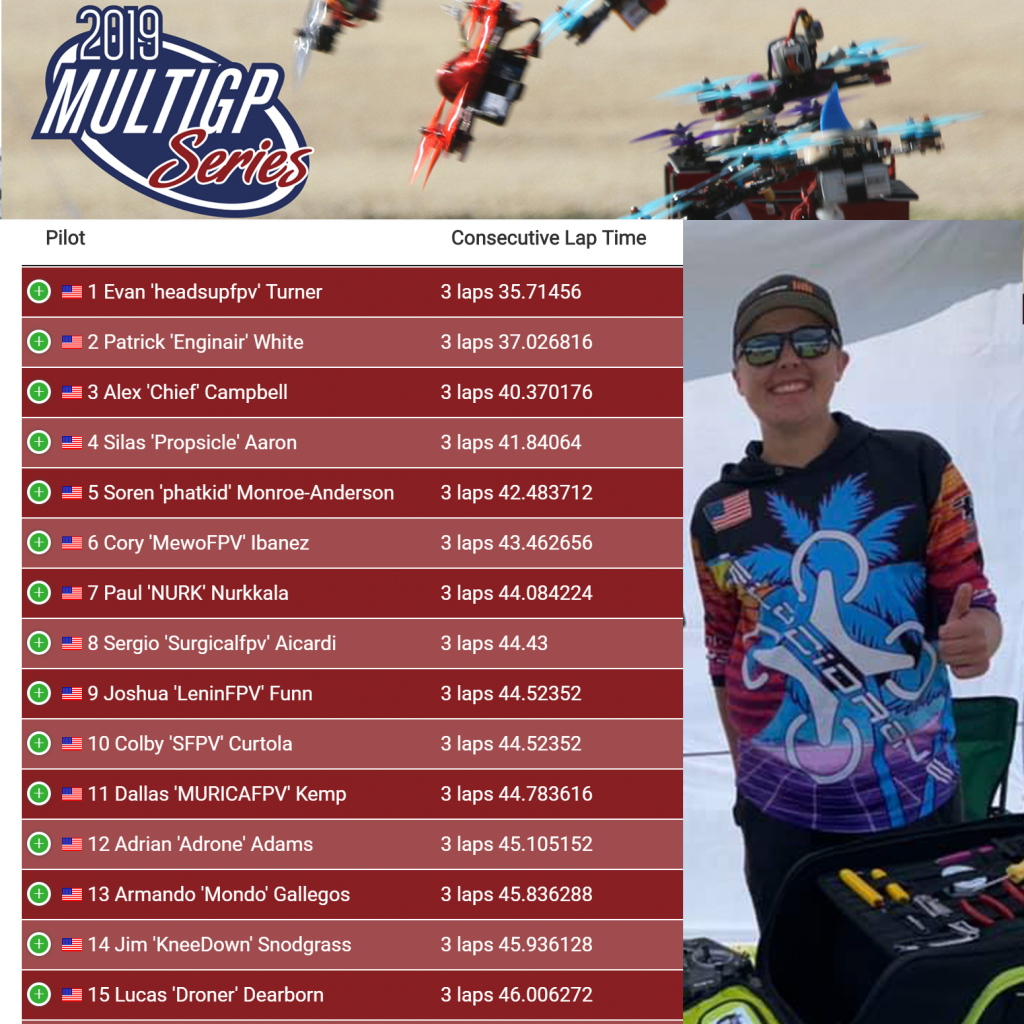 It was never an "if", and merely a "when", and that was answered on the opening day of Week #10 of the MultiGP Series as the reigning MultiGP Champion, Evan "Headsupfpv" Turner officially embarked for the first time on the 2019 Global Qualifying Track.
As a precursor to what would happen, during his second round of practice he posted a 35.314 Fastest-3 Consecutive lap time, including the fastest lap on record on the track: (12.292, 10.069, 12.983).  That time would have bested the top qualifying time by 7.1 seconds had it been a qualifying run.
Competing at a double-header hosted by 901FPV and Central Arkansas FPV Racers in Millington, TN, it would be his second event's third qualifier that would be his fastest: a total of 35.715 Fastest 3 Consecutive Laps (11.361, 12.863, 11.491).
Meanwhile at the same double-header, second event, Alex "Chief" Campbell posted a 40.370 to slide into 3rd overall Globally and Silas "Propsicle" Aaron posted a 41.840 to slide into 4th overall Globally on "The List"…. making 3 of 4 moves into the top-5 happening at the same event!
Meanwhile, North in Barto, PA Patrick "Enginair" White jumped to #2 Globally on "The List" by posting a 37.027 Fastest-3 consecutive run, in the 3rd round of the event by Safety3rd Racing with a 12.443, 12.162 and 12.422 from laps 2-4 on a 5-lap effort.
Four new pilots in the Top-5. with three more qualifiers to go on Sunday to round out Week #10 of the MultiGP Series.