Scheduling issues and some technological issues shortened the schedule this past weekend to 4 events on the 2019 MultiGP Series. A double-header was hosted by KC Multi-Rotor and KCFPV in Kansas City, Missouri, and Winnipeg FPV hosted a global qualifier in Winnipeg, Manitoba, Canada, along with Alaska Drone Racing League hosting their first global qualifier in Butte, Alaska.
33 pilots competed at one of the 4 Global Qualifiers, with 26 of them competing at their first Global Qualifier of 2019. This takes "the List" to 641 pilots who have completed a lap or more in the 19 weeks to date.
In Missouri, Shawn "Shames" Ames was the fastest in both Global Qualifiers at the double header by KCMR and KCFPV, with his 10th official pack of the double-header being his fastest at 43.9 fastest-3 consecutive laps to climb 29 spots to be ranked 31st globally. Also making strides in the Pro Class were Andrew "Hot_Nasty_Speed" Johnson starting 2019 in 182nd with a 56.7, Josh "Buzzlitebeer" Waldron climbing 2 spots into 170th with a 55.6, Christopher "Hot_Nasty_Chriviper" Ledford at his first GQ starting in 137th with a 53.1 and Akeem "Slice" Ayoade starting in 89th with a 49.6. Meanwhile, Matt "Hot_Nasty_KingFPV" King competing in his first GQ of 2019 starts in the #13 spot in Sport Class with a 59.4 fastest-3 consecutive lap score.
Heading North to Canada, Winnipeg FPV hosted a single global qualifier that was successful for two pilots to break the top-200 for Pro. Louis "highway11" Plett posted a 50.8 to be seeded 107th while Kevin "Smiley" Sawatzky was the fastest pilot of the week in the Series with a 41.7 fastest-3 consecutive laps following a 13.7, 14.1 and 13.8 sequence of laps on his first three laps on a 4-lap, 62-second run.  Sawatzky starts 2019 in the #11 spot and is the highest-ranking Canadian and second-highest international pilot outside of the USA on the Global Leaderboard.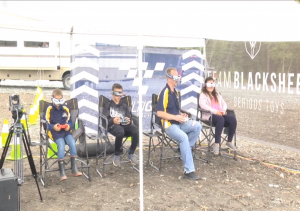 Even further both North and West we saw two pilots join the Pro Class in their first outing. Buckley "MrGeekFPV" Clarke starts in the #191 spot with a 57.4 and William "FpvMaverick" Thomas starts in the #129 position with a 52.6. Ryan "akdrones" Martin climbed over 100 spots to be ranked 176th Globally in the Pro Class with a 56.2 and David "Hazardfpv" Spencer climbed 8 spots to the 37th position in Pro with a 44.4. Alaska is also represented in Sport Class with Josh "FoggyMindedFPV" Erickson starting in the #38 spot in the Sport Class with a 61.7 fastest-3 consecutive laps time as well.
With these new additions to "the List", the Pro Cut-off to be in the top-200 to be invited to champs inched up to 58.25 fastest-3 consecutive laps (19.4-seconds a lap up from 19.6 last week), and the Sport Class Cut-off (201-300 on "the List") to 66.3 (20.1-seconds a lap up from 22.2 last week).
This weekend coming there's another QUAD-HEADER in Colorado with The Other Guys, Fort Collins FPV and Gatekeepers; and double-headers in: North Carolina with Fayetteville Multirotor Racing and Jacksonville Drone Racing Club; Missouri with St. Louis FPV Racers and Heart of America FPV; California with OCFPV; Michigan with Detroit Drone Racing and Mid-Michigan MultiGP; along with Global Qualifiers in New York with Full Tilt Racing and Minnesota with Mighty Drones.
Just over 5 weeks to go until the Sport and Pro Class Rosters will be decided!
See the entire schedule of Global Qualifiers Here – https://www.multigp.com/championships/2019-multigp-series-qualifier-schedule/
And The Global Qualifying Rankings or "The List" here – https://www.multigp.com/championships/2019-multigp-series-global-qualifier-results/