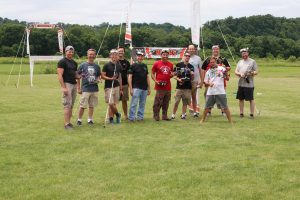 Saturday, June 22nd the Cincinnati Quad Racers held their first qualifier for the 2019 MultiGP Series at Hawks RC Field in Hamilton, Ohio.
Their roster of pilots included 12 first-timers on the Global Qualifying Track in 2019 taking the Global Qualifying Ranking or "the List" to 400 Pilots that have been ranked Globally!
While it wasn't all about the "GQ Newb's", 2 of the returning pilots bettered their rankings, Dustin "Dustyfpv" Webb improved his time to remain in the Sport Class Division at 276th, while Jared "compudaze" Bell goes from 100th on the list to 62nd with a gain of 38 positions with his new time.
The biggest mover of the week is Don "T3hDon" Honaker running in his first qualifier of 2019 starting in 29th Globally with 46.36672.
The CQR Qualifier moves the Pro Cut-off up to 69.37 seconds for a fastest-3 consecutive lap score (or 23.12 per lap) from 69.99s (23.33 per lap) and the Sport Class Cut-off from 93.85 (31.28 per lap) to 90.97 (30.323 per lap).
Next weekend 300+ Pilots will have their chance to get 10 official packs in at the 2019 MultiGP International Open presented by Team Blacksheep (more info: www.MultiGP.io), plus qualifiers in Moorhed, MN with Quad Squad, Montreal, Canada with Montreal Drone Racing and Fort Worth, Texas with Cowtown Drone Racing.
See the entire schedule of Global Qualifiers here
And The Global Qualifying Rankings or "The List" here