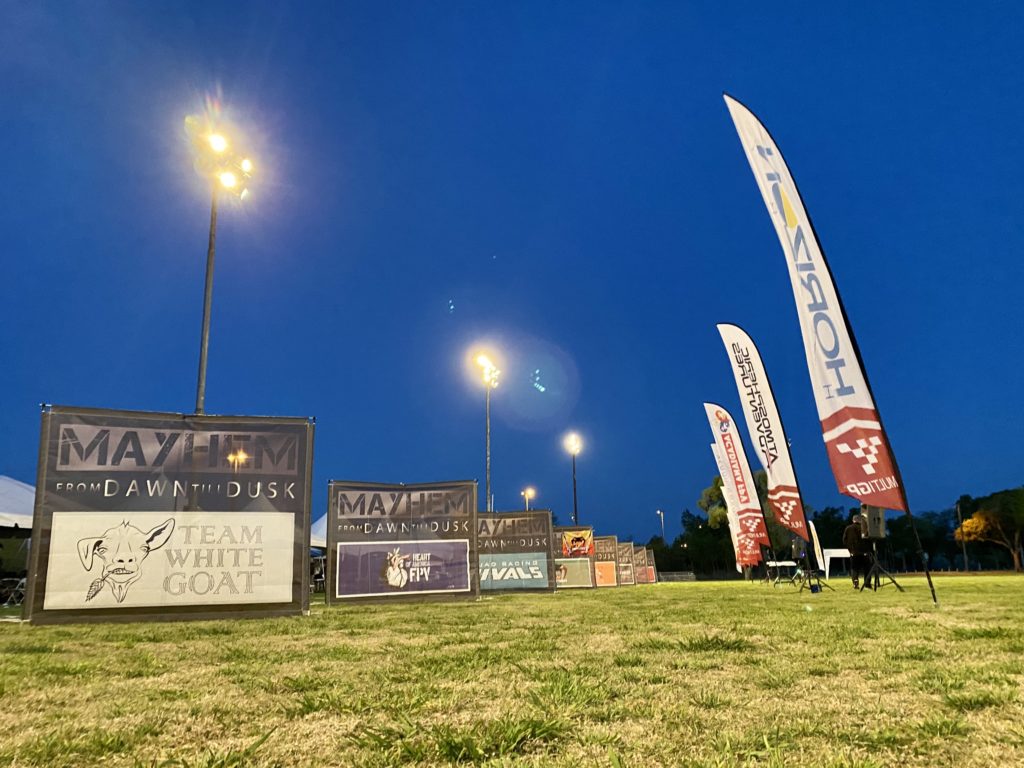 Another Mayhem Dusk to Dawn race is in the books!  On April 10th, 80 pilots on 8 teams from around the country competed in the fifth annual Mayhem team race hosted by MultiGP under the direction of the Master of Mayhem himself, Shannon Broussard.  This year's track was a community voted design by Josh "Yawsome" Howell of Team White Goat.
Many teams arrived Thursday or early Friday to test their gear and find a local field to do some last minute team practice.  Friday evening was a planned 1 hour practice with all the teams gearing up together at the Dallas Drone Racing field in Carrollton Texas.  With the release of new RC link protocols like Tracer from our event sponsor TBS, the MultiGP team wanted an opportunity to test the environment before we went live for 12 hours!  The practice went smooth with the adjustable power outputs set to 25mW and practice was extended for another 30  minutes, who is going to say no to more packs!
Saturday morning opened a brisk 64 F with a light breeze, a welcome change from the usual fog or rain as in years past.  The teams arrived around 6AM to set up their pit areas in the MultiGP provided 20×20 tents, tables and chairs. The teams then organized their strategy for the race that would be live on the tone in under 1 hour.  The strategy of where batteries were charged, quads staged on the line, and pilot order were all coming together.  Many teams customized their "landing zone" with such things as additional netting, side walls, and Team Velocidrone developed what looked like a quad trampoline!  The landing zone, many would argue, is the most important part of a team race, as a misstep here could cost you time or even lap penalties!
Most of the teams had previous Mayhem experience so the pilot meeting was quick and pilots headed to the pits to prepare for the start!  Due to Covid restrictions Joe Scully joined the pilots remotely over the speakers and MultiGP YouTube live stream.  He was joined by the Godfather of Tiny Whoops, Jesse Perkins for the 16 hour stream.  This year Shannon decided to run a 12 hour race clock with the clock on pause during cautions.  Each team had a computer in their pits to see the Livetime timing and lap count to verify time remaining, confirm lap count, and most importantly see where they stood in the overall rankings.
Right around 7:00 AM central time the race was started with the sound of roaring quads that continued for about 16 hours to get the 12 hours of race time.  About an hour and a half into the pandemonium that is Mayhem, teams finally started to settle a bit.  Many of the days penalties for landing in your neighbors pits, and other mistakes were righted quickly as pilots fell into their rhythm.  A familiar face at at large MultiGP event , Chris Thomas roamed the pits talking to pilots with friendly banter and bouncing ideas for next year off the pilots.  Around noon Shannon and Chris delivered pizzas to each team that were donated by Kevin "Quad Doc" Turner and greatly appreciated by all!
The battle for first was between Velocidrone with an average team rank on the 2020 GQ of 26 and Heart of America with an average GQ rank of 52.  The 2 teams remained very close the whole day with pilots like HeadsUp on HOA and Noical of Velocidrone throwing down lap times sub 20 sec!  Over time the race was really 3-4 little races as each team was close to onerous two other teams the whole day.
At 11:41 PM, the buzzer went off and pilots were to complete their lap and close the fifth installment of Mayhem.  First place went to Team Heart of America with 1672, a mere 8 laps ahead Team Velocidrone.  Considering the talent on both those teams with the top pilots of the world, it is not surprising that they finished within 8 laps of each other!  Team White Goat took third with 1451 laps.  The total lap count for 12 hours of racing ended at 11,202 not including penalties!
2021 Mayhem Teams and laps
1)Heart of America – 1672
Headsup, Nurk, Amari, Sky, Chief ,Mondo, Nicnac, Shames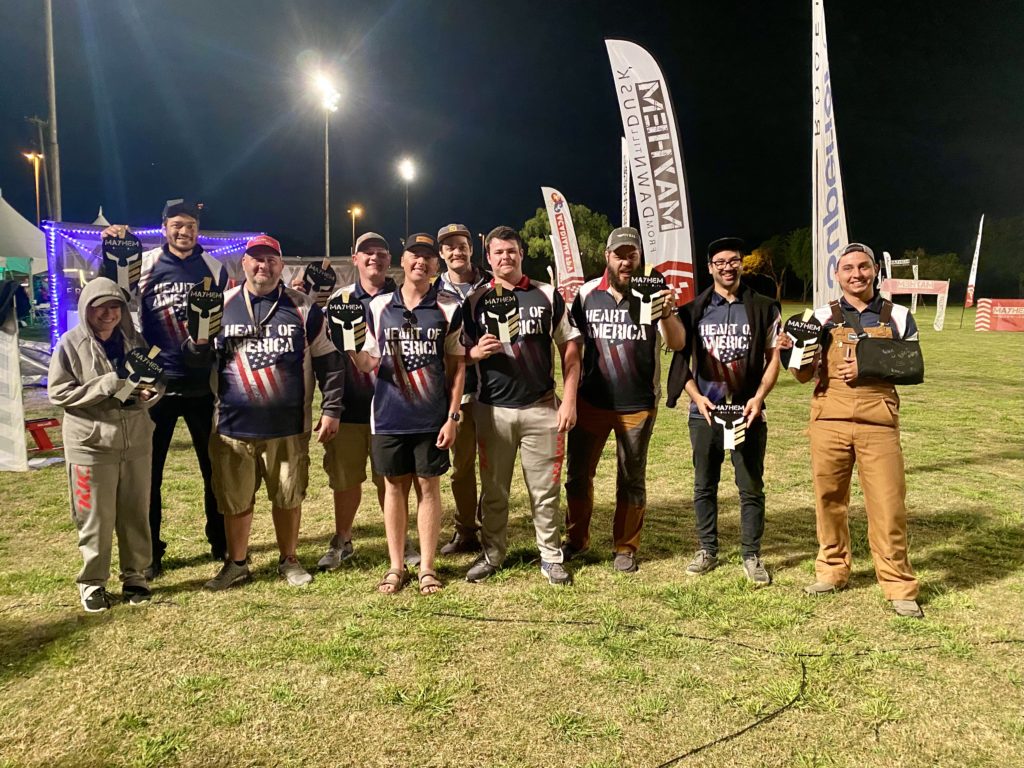 2)Velocidrone – 1664
SFPV, Wildtype, Noical ,Mewo ,Hyper, Leviathann, JakeHammer, Zstone, JFK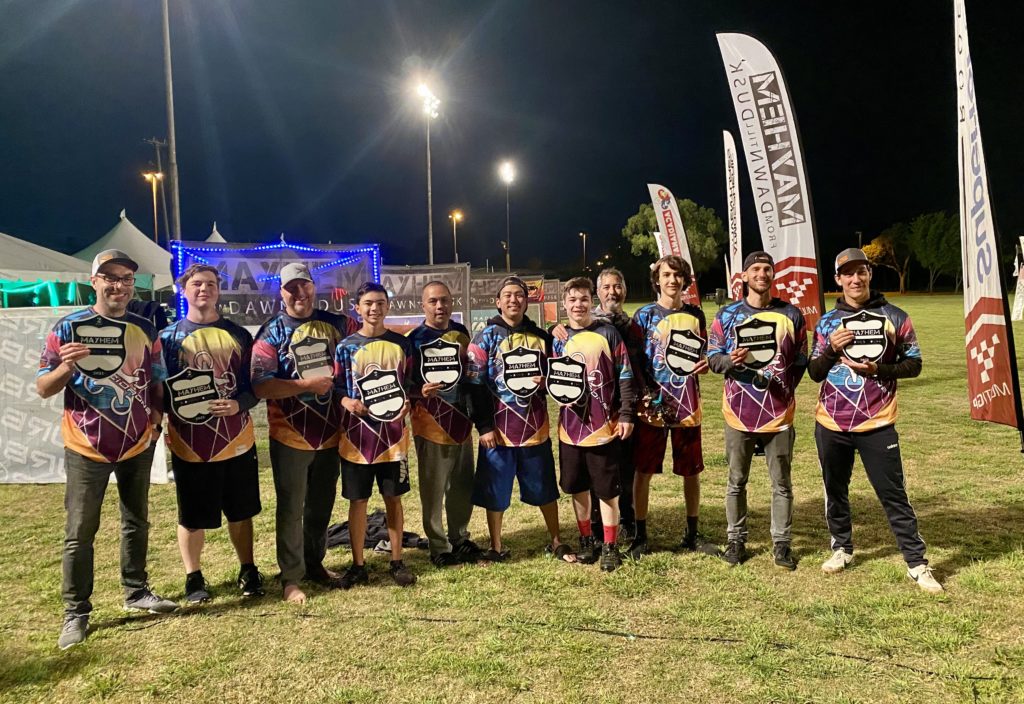 3)Team WhiteGoat – 1451
Droner, Ayyykayyy, FireSerpent, Formula, DreamZ, Imperius, Lundy, Yawesome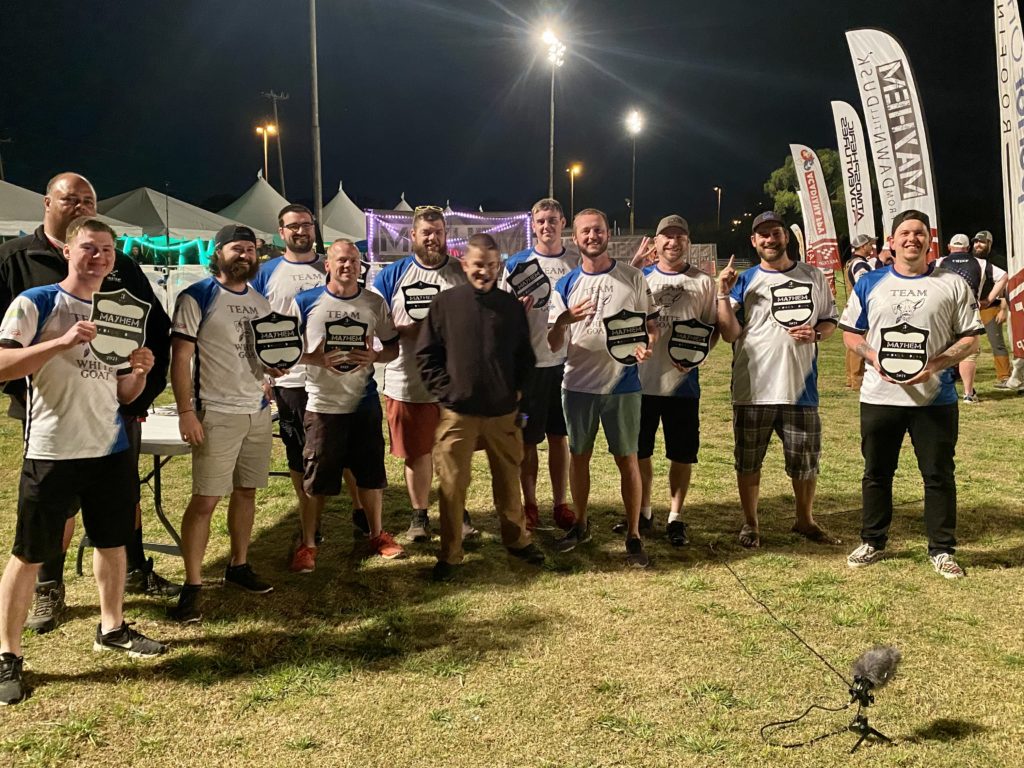 4)Team BlackSheep – 1423
Enginair, EthanFPV, DIN, Tdog, Fiddykal, AKDrones, King, Slow Poke
5)QuadRivals – 1401
Kneedown, SSBelmont, TBFPV, OrigDragon, Gator, MixedSignals, Infinitee
6)Don't Mess With Texas – 1368
Captain Vanover, NM_Grower, Jbox, MattMaxx, SkyReadyRC, HungryShark, Kumokraft, Limon
7)Team Mamba – 1134
2dogrc, Roo, Loft, Smitty, JimmyProton, Reap3r, RogerB, Rekt_Less, Neeyo
8)Wolfpack – 1089
OsbyOneKnoobie, Stark, Alpifpv, ANDjelo,CoryRC, Zix, Spacepants, CloonDog, Dimplezz_kb, V.Ball 
Freedom Spec Race
That night many teams either celebrated their victory or cried over the carnage brought back to the hotel for repair!  The weekend was not over as there were 2 more races to go on Sunday!  The first race Sunday morning slid into mid day before the pilots moseyed over from their hotels or BNB's.  The first Freedom Spec Qualifying race of the year was held with over 30 pilots running the Headsup 2207 motors, HQ Heads Up props, 3s battery and a min flying weight of 460 grams.  The course was basically the same Mayhem course, so no practice was needed.  The race opened with a few heats of qualifying then a double elimination bracket.  Tim "DoALoop" Barnhart directed this race under the Texas sun and his MultiGP straw hat until we had ourselves a winner!  Podium went to Noical with Amari second and Hyper third.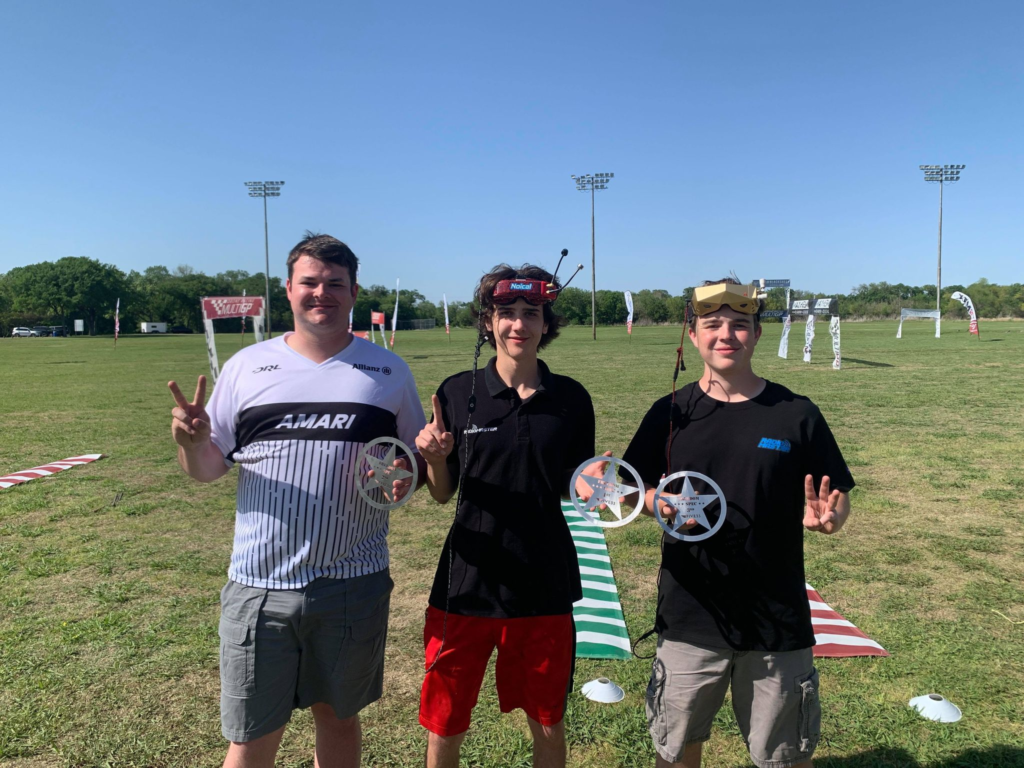 Open Class Race
One more race to go during this weekend of non stop drone racing, and this time just a normal heads up racing!  The format was a few rounds of qualifying then into the brackets!  This race not only featured the pilots from Mayhem but some of the local pilots joined in on the race action.  The battles were intense in this race with Leviathann taking the win, Tdog taking second and  Mewo finishing third!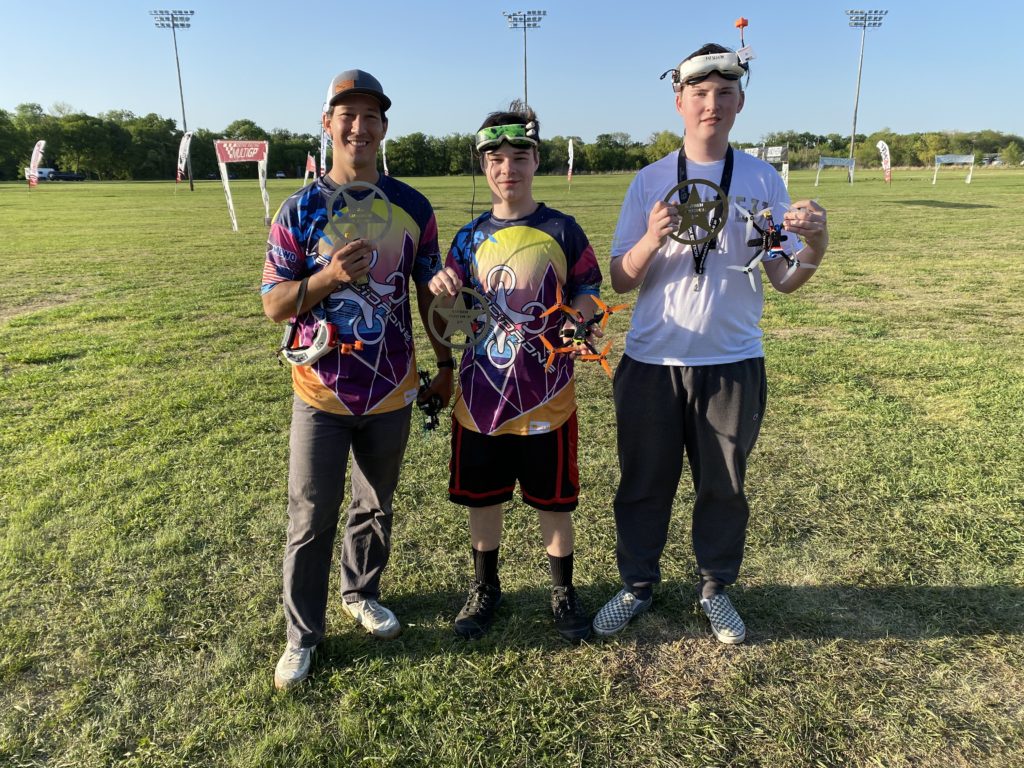 That's a wrap for Mayhem 2021!  We would like to send out a huge MultiGP thank you to all the behind help including our virtual judges, tech support crew and video support.  Without them this could not be possible!  Please subscribe to our YouTube channel where you can see all our live events and watch Mayhem and other MultiGP productions
There are many races each year, but there is only one Mayhem Dusk to Dawn!
Missed the action? Check it all out here: