[vc_single_image image="40923″ img_size="full"]
TEAM

USA 2019

IS GOING TO CHINA!
Be a part of history as Team USA competes in the 2019 FAI F3U World Drone Racing Championships
The FAI World Drone Racing Championships is a four-day international event for world-class pilots selected by their country or by the FAI.
It will bring together drone racers from all over the world, giving them a platform to show off their considerable skills, while pitting their drones against other top-flight pilots.
[vc_single_image image="40924″ img_size="full"]
HOST CITY: SHENZHEN, CHINA
"Shenzhen in southern China is one of the fastest developing cities in the world, and is renowned for innovation, technology and international exchange. With the support of the government, we believe Shenzhen can stage a highly successful championships."
"Drone racing is increasingly popular in China, especially among teenagers, and we are sure that hosting this competition will boost the development of this exciting young sport."

– Zhuoyue Yang of the Aero Sports Federation of China (ASFC)
[vc_empty_space]

Team USA 2019 was determined at the FAI race held at the 2019 MultiGP International Open. Top pilots from all over the nation battled it out for the right to represent America in Shenzhen, China. The team consists of 3 Male Adults, 1 Female Adult and 1 Junior.

WILLIAM
"BILLSTER"
SCHUETTE

Adult Male

CHRISTOPHER
"FPVCH"
HARTMAN
Adult Male

Teng
"Junebug"
Ma

Adult Female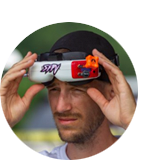 COLBY
"SFPV"
CURTOLA
Adult Male
TEAM

USA 2019

KIT
Nothing beats the sense of pride a team has when sporting their national colors. Feel the wind in your hair, heed the eagle's call and let the Red, White and Blue colors proudly fly!
Sponsor Team USA and your logo will be prominently featured on all team jerseys. This stylish and modern kit will be worn by all pilots and team members. We plan on making this shirt design available later for supporters and family to purchase.
Title/Presenting sponsor will have a premiere size and position on the jersey.