Fourteen Global Qualifiers comprised of two single GQ's, four double-headers and a Quad-Header of four GQ's saw 140 pilots flying across the United States during week #20 of the 2019 MultiGP Global Series. Well over half of the participating pilots were competing at their first GQ to qualify for the RaceDayQuads 2019 MultiGP Drone Racing Championship in concert with Stemfest USA at Daytona Stadium, Daytona Beach, Florida. November 7th through 17th, 2019. The hosting MultiGP Chapters were very busy, as were the pilots, with 96 pilots attending more than one qualifier.
A total of 15 pilots were added to the Pro Class (ranked 1-200) and 10 to the Sport Class (ranked 201-300) while in total there were 54 pilots either shuffled in or climbing ranking in either division. The total now climbs to 723 pilots ranked internationally on the 2019 MultiGP Global Leaderboard.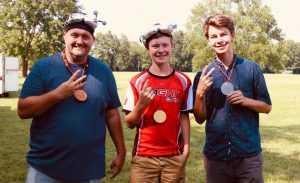 Commencing in Valley Park, Missouri at a double-header by St. Louis FPV Racers and Heart of America in Valley Park, Missouri, Vick "EVL1" Alaniz, competing in his first Global Qualifier starts his 2019 in the #76 position in Sport Class with a 62.49 Fastest-3 Consecutive Laps Score and Casey "Casardo" Prater joins him in the Sport Class Ranking in 35th, climbing from deep on "the List" to 35th in Sport Class with a 59.34-score. Also climbing up were Nicholas "Nicnac-fpv" Hoffmann moving up 1 spot to 85th in Pro with a 48.6, Shawn "Shames" Ames moving up 6 spots to 25th Globally with a 43.3, Rand "Randbrand" Brewer climbing 60 spots to 21st with a 42.7, and lastly, the fastest pilot of the week was Silas "Propsicle" Aaron who broke the top-5 on the Global Leaderboard by climbing 9 spots to 3rd with a 37.71. Propsicle ran a 12.3, 12.2 and 13.1 set of laps on a 3-lap, 40.6-second run for the 3rd overall ranking time on "the List" to date.
Up in Westland, Michigan Mid-Michigan-MultiGP and Detroit Drone Racing teamed up on a Global Qualifier Double-Header that saw 26 pilots fly the GQ Course, with 3 breaking into or climbing in Sport Class, and 10 breaking into or climbing in Pro Class. Ahmad "thedronepro" Aldhaheri and Dave "Air-Badger" Fignar both competed in their first GQ's, moving into 83rd and 7th in the Sport Class, respectively, while Sean "Motorburner" Lee moved up 29 positions into 8th in Sport Class. Josh "Skyhawkfpv" Kosier broke into the Pro Ranks at his first GQ with a 54.1 to start in 173rd, Jacob "JakeHammer" Capobres moved from Sport Class into Pro with a 49.7 to sit just inside the top-100 in 99th, Nick "NICKTHEDESTROYER" Staley moved up 201 spots to 128th in Pro with a 51.3 Fastest-3 Consecutive lap score as well. Meanwhile climbing in the Pro Class, the Wolverine State saw Marcus "SYKsky" Coyle move up almost 40 positions to 158th, Eric "EZ_FLYER" DeJonghe advanced 24 spots to 149th, Ruben "AgentOrange" John climbed 34 spots to 133rd, Kent "Thumbs17" Beal jumps 20 spots to 113th, Andrew "Cappy_One" Coppola maintains his Pro Class Ranking in 108th with a 49.9, Jeff "Jeffpv" Comer climbed 15 spots to 65th with a 47.3 and John "JohnEFly" Chapman improved upon his time to maintain his top-4 in the World ranking with a 39.35, bettering his earlier 40.58, with a 13.4, 2.9 and 12.9 on a 5-lap, 74-second run.
In Longmont, Colorado there was a QUAD-Header with The Other Guys, Fort Collins FPV and Gatekeepers. 27 Pilots attended, with each one of them competing in their first Global Qualifier. 5 broke the Sport Class Ranking and 9 advanced into Pro Class on week #20. Starting in Sport Class, Joshua "jrice" Rice starts in 79th with a 62.6, John "AirFrame" Frame starts in 67th, Mark "OhGeez" Mudron begins in 41st, William "Air-Borne" Mora in 37th, and Aaron "Fermental" Ziemann slid into 19th. Into Pro Class, Nick "KYTEFPV" Moreno starts in the number 192 spot in Pro, Ben "Sweet_FPV_Name" Hildreth in 88th, Byron "Claymore" Thurston in 155th, Colton "Coco" Hartford in 146th, Dave "KrispyDave" Zubkov in 129th, Devin "StrizzY" Street in 104th, and into the top-100 with Tristan "TDog2" Tefft in 51st, Jonathan "Imperius" Ficklin in 48th and Timothy "SkyFPV" Ichiyasu was the highest seed with a 41.46 fastest-3 to start in 12th on "the List" for Pro Class.
Down to Jacksonville, North Carolina, there was a bit of shuffling in both divisions after Fayetteville MultiRotor Racing and Jacksonville Drone Racing Club teamed up on a Double-header. Michael "SweetThang_FPV" Sweeting competed in his first GQ to start in the #87 spot in Sport Class, Mark "2dogrc" Grohe moved up 37 positions to 51st in Sport Class, and Tony "TBFPV" Bracco climbed over 100 spots to seed himself into 45th in Sport Class. Max "BayMax" Dorsey maintained his position in the Pro Class with a 52.23 to be ranked 137th on the Global Leaderboard, a gain of .5 seconds up from 52.75.
OCFPV hosted their own double-header in Silverado, California. 25 Pilots competed over the course of the two days. Competing in his first GQ, Norman "10Ddo" Sidney starts off in the number 16 spot in Sport Class with a 57.6. In the Pro Class, 4 new pilots were added this week: Ryan "MittensLOS" MacLean starts in 176th, Christian "Stealth_Fpv" Ojala begins in 127th, Quang "Q" Tran begins in 118th and Brennan "bdub" Gerjarusak launched himself to 69th with a 47.71. Gaining ground in the Pro Class were: Seth "Rotorhead5" Fener bettering his time to sit just ahead of the cut in 198th, up almost 60 spots was John "Roar" Rohrssen to break the top-100 in 97th, Zachary "PiMan" Rodenbucher doing the same moving to 83rd after a gain of 21 positions and Reggie "R3" Ramos as well, moving up 25 spots to 80th. The fastest at the event was Andy "DolmaFpv" Marachilian who went from 19th into the top-10 Globally with a 40.99 to sit in the #7 spot on "the List.
Over to the Empire State next, as Full Tilt FPV Racing hosted a GQ in Schenectady, New York. Shuffling up in the Sport Class were Tom "smitty" Smith bettering his time and sliding into 60th in Sport Class and Salvatore "ErrantWind" Gentile gaining 67 spots away from "the bubble" to the number 27 spot. Three pros gained or maintained position, Kyle "Footr" Van Sandt also moved away from "the bubble", in the Pro Class, though, gaining 34 spots to slide int 163rd, Ken "sp00ls" Murphy maintained his spot mid-ground in 125th. Meanwhile, Nick "Nickwasp" Lee hit his first Global Qualifier in style posting a 49.8 to commence his 2019 season in the number 102 spot on the Global Leaderboard.
A make-good on a rain-out finally happened in Maplewood, Minnesota with Mighty Drones getting their event in. They saw two of their pilots advance into the Pro Class after Blake "Buhlahkay" Gabriel posted a 53.5 to climb almost 200 spots to 156th Globally and Kyle "Formula_FPV" Wentworth went from Sport to Pro with a gain of almost 180 to 76th with a 48.2 Fastest-3 Consecutive laps.
With all of the changes this past weekend, the Pro cut-off jumps almost .5 seconds/lap from 19.42 to 18.88 for a total fastest-3 consecutive of 56.63, while Sport Class jumps 6-tenths of a second from 22.1 to 21.4 or 64.1 for total fastest-3 consecutive laps.
Meanwhile, the spread continues to tighten in both divisions after 20 weeks of being ranked.
Top 1-25 in Pro – separated by: 7.5 (2.5/seconds / lap)
Top 1-25 in Sport – separated by: 1.7 (0.6 /seconds / lap!!!!)
Top 1-50 in Pro – separated by: 10.1 (3.4/seconds / lap)
Top 1-50 in Sport – separated by: 3.5 (1.2/seconds / lap)
Top 1-100 in Pro – separated by: 14.0 (4.7/seconds / lap)
Top 1-100 in Sport – separated by: 7.4 (2.5/seconds / lap)
For the past 11 weeks, the Top-Qualifier still remains as Evan "headsupfpv" Turner, the reigning MultiGP Champion. His 35.7 (or 11.9-seconds a lap).
This weekend coming there are a record number of 25 Global Qualifiers Scheduled! Drones FPV Chile is hosting a double-header in Santiago, RM Chili; KwadsRU are hosting one in British Columbia, Canada; Planet FPV is hosting one in Quebec, Canada; Alaska Drone Racing League is hosting their second in Alaska, PittRotorcross is hosting one in Pennsylvania; 415FPV and #TeamBaylands are partnering up with another double-header in Contardi, California (followed by Pizza and Beer in town, as is the tradition); Prowler FPV and Lincoln Drone Racing are partnering up on a double-leader in Papillion, Nebraska; Drone Racing Club and Columbus MultiRotor Club are hosting a double GQ in Acworth, Georgia;, Owensboro Isotopes RC Club and SOKY MultiRotors pair up for a GQ in Kentucky; IndyGP becomes Tier-3 just in time to host a double header in Indianapolis, Indiana with Whitley County Quadcopter Racing; Baton Rouge, Louisiana will become QuadCity once again as long-time partners Redstick Racing, SELA FPV and Acadiana FPV partner on a Triple-Header; and… our first ever SEXTUPLE-HEADER (that's 6! hanks, Google) in Kings Mountain, North Carolina with Backwoods FPV, MidCarolina FPV, Western Carolinas FPV and Queen City FPV! MidCarolina FPV, HappyQuads FPV Racing and Western Carolinas were the first to partner on a triple-header qualifier in 2018 and add two more chapters for another record-setting THIRTY ROUNDS OF QUALIFYING!!!
So far, there are almost 150 Pilots registered to compete this weekend in week #21, 39 of them are currently ranked globally, but are looking to break into Sport Class, 11 of them are ranked in Sport Class looking to climb into Pro, 29 are currently looking to defend their Pro Class Ranking, while 70 or almost half are competing in their First Global Qualifier! With all of the multiple GQ's, the pilots will attend an average of 1.8 GQ's this weekend. The Global Leaderboard is about to be slammed!!
There are only 4 weekends remaining for Global Qualifiers as week #21 commences, in just one month it will be known who the top-200 and top-100 in Sport Class are as the training for the 2019 Championship in Daytona Beach begins. There are currently 159 Qualifiers on the schedule for 2019, with 74 still to transpire; ironically the exact same number of qualifiers held in 2017! There were 94 qualifiers in 2018 making this season by far the largest yet for the MultiGP Global Series.
See the entire schedule of Global Qualifiers Here – https://www.multigp.com/championships/2019-multigp-series-qualifier-schedule/
And The Global Qualifying Rankings or "The List" here – https://www.multigp.com/championships/2019-multigp-series-global-qualifier-results/
Top-5 Pilots in Pro Class:
Top-5 Pilots in Sport Class: