June 1st and 2nd saw five Qualifiers for the MultiGP Series hosted in three different Countries as another 58 pilots were added to the Global Qualifying Rankings or "the List", and a number of other pilots better there times from earlier efforts.
In 2019 MultiGP created the Global Qualifying Track and opened the MultiGP Series to Pilots and Chapters worldwide, by allowing any chapter the opportunity to host a qualifier, and every pilot to be ranked Globally with a chance to be invited to the 2019 MultiGP Championship.
In the Dominican Republic, Dominican Drone Racing hosted a qualifier on Saturday, with 9 of 15 pilots breaking the top-200 on the List to hold positions within the Pro Class Division. The current division between Pro Class and Sport Class is 3 laps in 80-seconds, though that bar will continually move throughout the Series. Notably the reigning MultiGP Latino Cup Champion, Rodimir "RodyFPV" Tavarez was the fastest in DR with a 3-lap 44.606-second Effort (14.713, 14.605, 15.288), ranking him 17th on the List, Globally!
In Canada, a field of 15 pilots battled against high winds as canopies blew away, gates bent over and flags tumbled, but they persevered through the balmy weather with 7 pilots breaking the top-200 during Rat Race FPV's first 2019 Qualifier in Gormley, Ontario, Canada. Eli "Bull-FPV" Abitbol finished with a 44.47 fastest-3 effort (15.020, 14.650, 14.800), launching him to 14th Globally on the List. He finished 4th overall at the 2018 MultiGP Championship after qualifying with a Wildcard as his route to Champs. 2019 is a whole new season!
Dallas Drone Racing and Acadiana FPV hosted events in Carrollton, Texas and Carencro, Louisiana respectively, with 19 of 30 pilots breaking the top-200 at this point. Another wildcard from 2018, Austen "aus10" Elam rocked his way into the top-20 with a 45.59-second fastest-3 consecutive laps effort (15.393, 15.047, 15.153), at the first Dallas Drone Racing qualifier.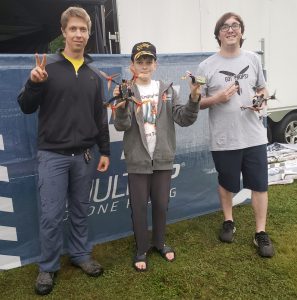 Meanwhile, it was a rainy day in Cuba, New York as the Rotor Stars Chapter hosted their qualifier on the Saturday, and Jonny "NeonFPV" Exner jumped from 49th to 5th on "the List" with a 41.66 Fastest Consecutive 3 lap effort (14.114, 13.654, 13.893 on laps 5, 6 & 7). He and another 7 of the 12 pilots finished with times in the top-200 pilots currently ranked in the Pro Division at the Rotor Stars Qualifier.
As Week 11 wraps, there are now 293 Pilots that have completed a lap or more on the Global Qualifying Track, and just 13 weeks of Qualifiers left. Next weekend there are another 5 qualifiers scheduled, in Alabama, Minnesota, New York, Ohio and again in Louisiana as the 2019 MultiGP Series continues to gain momentum!