UTT 8 – Rambozo's Revenge
We are happy to announce a new UTT track named Rambozo's Revenge. This new track requires 5 gates and 5 flags, a departure from previous UTT tracks. With many chapters owning both gates and flags, we felt it was the right time to introduce flags on the UTT tracks. This will allow us to create more varied and interesting tracks.
"This track was a collaboration between myself and Richard Kennedy (aka Rambozo) that we ran last summer. It's a super fun track to fly and we ran a race day on it. We ran 6 at a time and had no mid airs all day." – Chris "Slowpoke" Perry
We agree that this track is a ton of fun to fly and incorporates elements like: the flag slalom, corkscrew and various altitude changes throughout the track.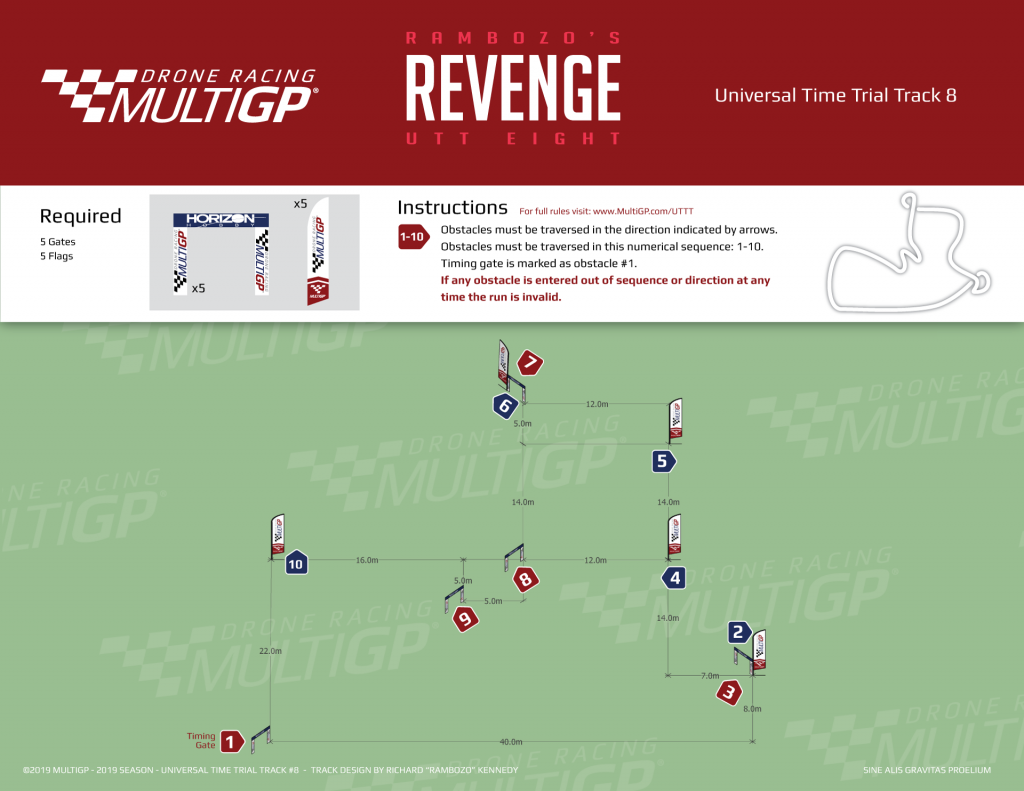 Download the field implementation guide for UTT #8 – Revenge
Submit your lap times for UTT 8 here:
Fastest 3 Consecutive Lap Leaderboards
Another common request we received was for the addition of fastest 3 consecutive lap leaderboards. Today you can submit 3 consecutive lap times for all the existing UTT tracks. You can find the new leaderboards under the "Leaderboards" menu. It is now grouped by single lap or 3 lap leaderboards.
Click here to submit 3 Consecutive Lap Times
3 Lap Leaderboards
UTT1 – 3 Lap Leaderboard   |   UTT2 – 3 Lap Leaderboard   |   UTT3 – 3 Lap Leaderboard   |   UTT4 – 3 Lap Leaderboard   |   UTT5 – 3 Lap Leaderboard   |   UTT 6 – 3 Lap Leaderboard   |   UTT 7 – 3 Lap Leaderboard  |   UTT 8 – 3 Lap Leaderboard