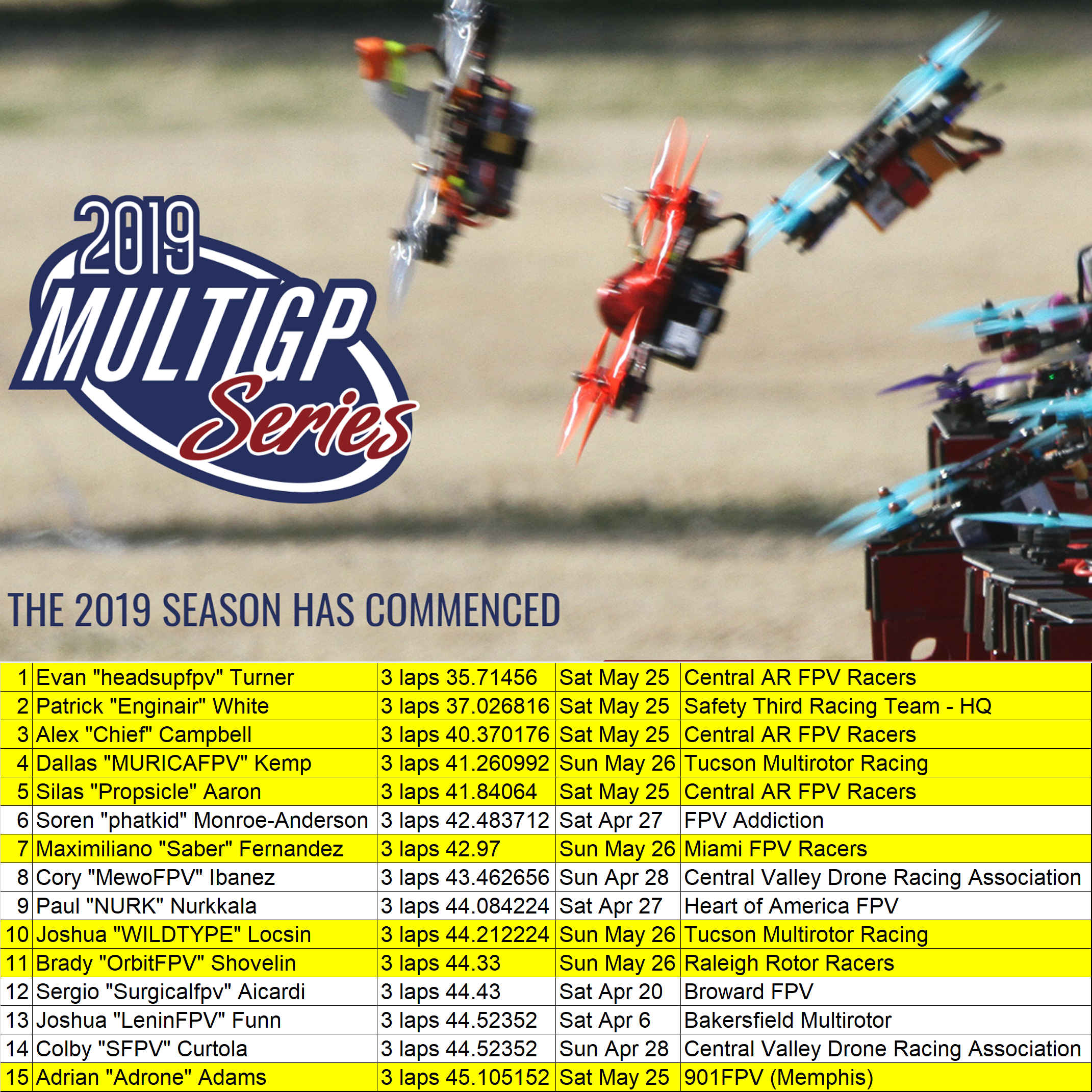 Week #10 of the MultiGP Series saw a ton of shuffling of "The List". 9 pilots shuffled into or higher into the Top-15 on the Global Ranking, including the reigning MultiGP Champion, Evan "HeadsupFPV" Turner who made his 2019 debut in a huge way by posting 10-second lap times and setting the bar at 35.71456 seconds for a Fastest-3 Consecutive Laps as the current Top-Qualifying Time (read more about HeadsupFPV taking the TQ spot here).
It's a whole new top-5, with the recently crowned Collegiate Drone Racing Champion Patrick "Enginair" White who slid into 2nd and was just off the cusp of the #1 spot on his first effort on the Global Track. Plus Alex "Chief" Campbell returns to the top of the MGP Standings; last year he finished 2nd overall in qualifying after leading most of the year, and currently sits 3rd in 2019. Add in veteran Dallas "MuricaFPV" Kemp in 4th, and Silas "Propsicle" Aaron returns to the top-5 in 2019. Propsicle finished inside the top-75 last year in the most difficult region, the North-Central, and this year posted a 45-second effort at an earlier qualifier and now sits 5th Globally with a 41.84 Fastest-3 Consecutive run after the double-header with 901FPV and Central AR FPV Racers.
A second qualifying effort for Maximiliano "Saber" Fernandez pushes him back into the Top-10, while Joshua "WildType" Locsin rounds out the top-10 on "The List".
Brady "OrbitFPV" Shovelin and Adrian "Adrone" Adams are the 8th and 9th pilot to break the top-15 this weekend as well.
What also makes the results interesting for the series is that we now have a "bubble" for qualifying for the Pro Championship (Weekend #2 consisting of 1st – 200th on "the List") and the Sport Class Championship (Weekend #1 consisting of 201st through the first 100 confirmed pilots). That cut-off is currently 3 laps in 1:55.124 (averaging 38.3-seconds a lap) after 235 pilots have completed a lap or more officially on the Global Qualifying Track. In contrast to the TQ time of 3 laps in 35.71 (averaging 11.9 seconds a lap), currently, there is a lot of room to qualify inside of the top-200, though that bar will continue to be raised week in and week out of the 2019 MultiGP Series.
There are now just 14 weeks remaining before the cut-off with week #11 being another monumental week with 6 qualifiers and the first two events outside of the USA as Rat Race FPV hosts their first qualifier in Toronto, Ontario, Canada and Domincan Drone Racing hosts a qualifier in Santo Domingo, Dominican Republic.
Now with a "bubble", the question remains, what do you think the cut-off between Pro and Sport Class will be? Just 14 weeks to go until we find out.