What should have been a full weekend of pilots slamming down laps on the Global Qualifier Track to work their way onto "the List" for the 2019 MultiGP Series, the weather caused two qualifiers to be postponed, while one transpired as planned.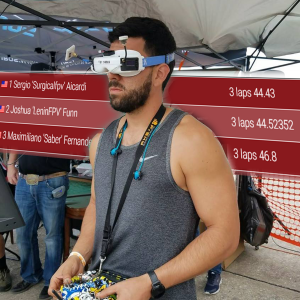 Broward FPV (Flipmode) along with Palm Beach FPV (Andre Smith) hosted the first South-Florida Qualifier in Davie, Florida. Lunch was sponsored by Drone Nation.
Twelve pilots participated with two of them breaking the top-5 of the Global Qualifying List.
Our inaugural "Next-32" Champion from the 2018 MultiGP Championships, Maximiliano "Saber" Fernandez jumped to the #3 spot on the List with a fastest-3 consecutive time of 46.800. His personal best run came in Qualifying Round #5 on a 7-lap run, using Lap 2 (16.130), Lap 3 (15.200) and Lap 4 (15.470).
Sergio "Surgicalfpv" Aicardi who qualified 52nd overall in 2018 by being 15th overall in the Contenders division and finished 37th overall in the Fast-57 at the 2018 MultiGP Championship made a statement at the BrowardFPV qualifier by staking himself #1 on "The List" with a 44.43 Fastest-3 Consecutive Laps Time. The current record setting run happened in Round #1 on a 7-lap run. His last three laps were his fastest 3 consecutive – a 14.340-second lap on lap 5, 15.470 seconds on lap 6 and 14.620 on lap 7. SurgicalFPV brought it down at the 1 minute-53 Second mark, which means he could have finished his 8th lap… but it wasn't necessary.
Week #5 is now complete, with almost 50 pilots ranked Globally after four qualifiers to-date. We expect a lot of shuffling next week as there will be SEVEN Qualifiers over the weekend. The 2019 MultiGP Series is starting to heat up!
View the Global Qualifying List: here.