One track, hundreds of qualifying sessions all around the World, one goal!
2023 Official Track Diagram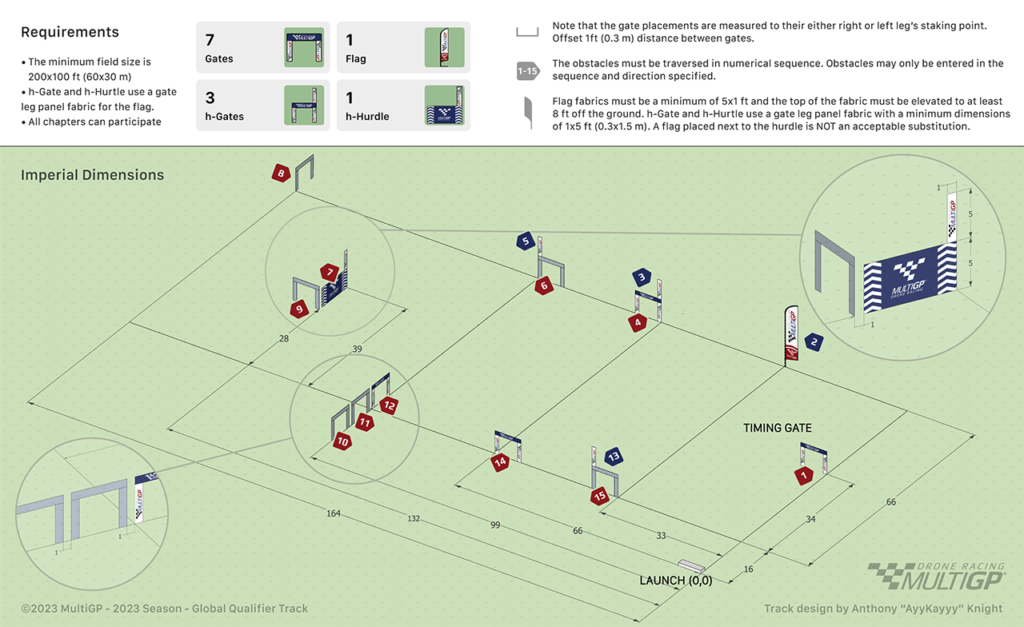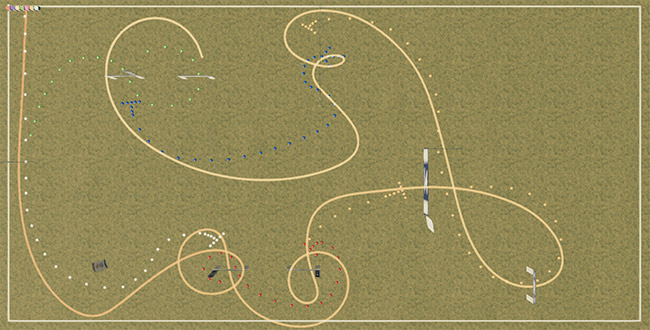 2023 GQ SCHEDULE
With over 600 chapters worldwide, it's easy to find a MultiGP Chapter in your area. Locate a local chapter by viewing our world map.
GQ 2023 Leaderboard
Starting a chapter is free and your chapter could receive MultiGP Race Gates, MultiGP Race Flags and more!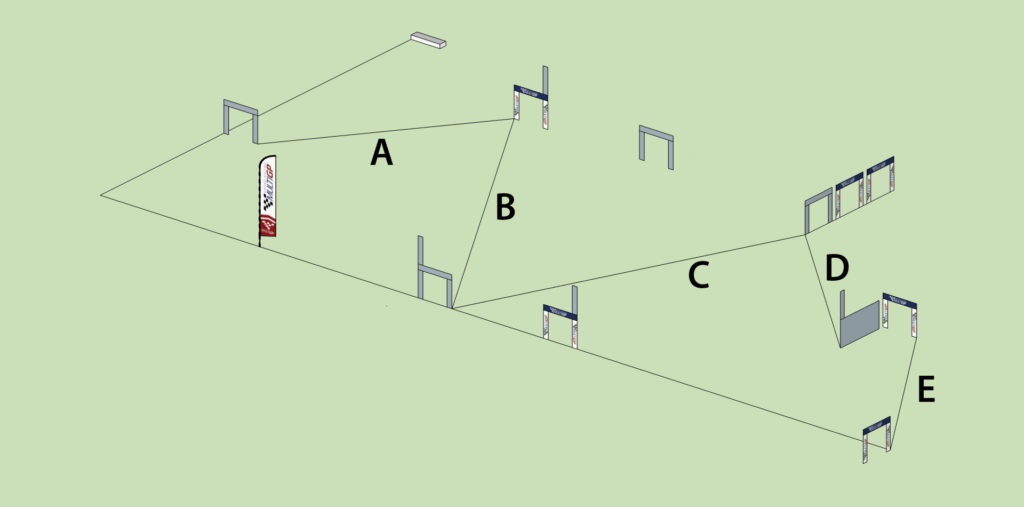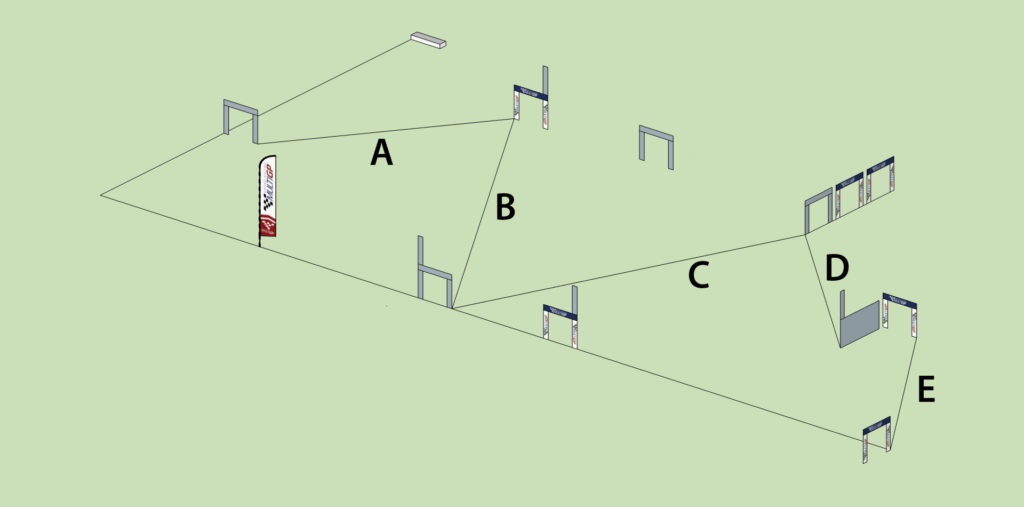 The road to MultiGP Championship goes through Global Qualifier

The MultiGP Championship series is open to all countries!
MultiGP Chapters can hold qualifying races that feed a global qualifying list via a Global Qualifier.
How is that possible? Every year MultiGP asks to the best pilots and track creators all around the World to create a track for Global Qualifier series. Then our community votes and the one with the most votes becomes the official Global Qualfier track for that year.
Every MultiGP Chapter with Tier 3-2-1 level  may host a specified number of Global Qualifier races that must run on the current year's official Track. 
Pilots all around the world can participate in the Global Qualifier
Tier 3, Tier 2 and Tier 1 Chapters can organize Global Qualifiers
Every Global Qualifier race  runs on the current year's MultiGP Qualifier Track (a standardized track with 10 chapter size gates, 5 flags, and 1 hurdle).
Top 150 Pilots are eligible for a PRO CLASS ticket for the MultiGP Championship
Sub 100 Pilots are eligible for SPORT CLASS ticket for the MultiGP Championship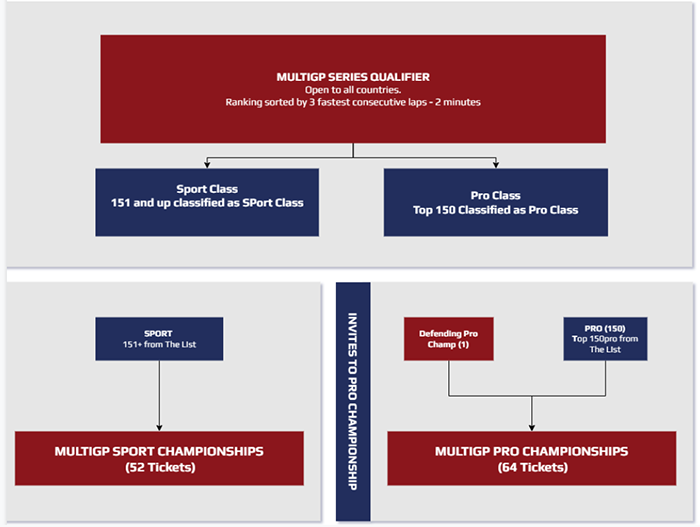 Format to MultiGP Qualifier
Fastest 3 Consecutive Laps
Optional and unlimited practice rounds (at chapter organizer's discretion)
A Minimum of 5 and Maximum of 10 competition rounds
Fixed time: 2 min
Finish last lap after timer sounds and count if finished
Must use a timing system
Must use LiveTime timing software
Race starts on the tone, timing starts at start/finish gate
All times must be submitted and added to The List
Race Class: OPEN
Track dimensions must be verified via qualifier track dimension worksheet, in addition to completed checkboxes for standardized assets, and submitted via the track dimension webform BEFORE racing begins via the Multigp.com verification page.

Track worksheet in feet – Located on MultiGP.com

Track worksheet in meters -Located on MultiGP.com

Chapter Organizers must utilize LiveTime software and compatible timing device for any race progressing pilots to the MultiGP Championship

If the timing system fails, becomes unplugged or unresponsive during a race, that race director may restart the race at their discretion.  Prior to the restart the race director may give each pilot the choice to accept the race result, or rerun.

Any and all objects itemized, with or without measurements, on the track diagram, i.e. tie downs, are to be deemed as standardized as listed.

Gates must be standard MultiGP chapter style gates with 5×5 openings and side panels.  Hurdles must meet MultiGP specifications listed in 7.1.3, 5 foot by 10 foot. 

Tracks that are found to not meet all specifications will result in the Qualifiers results being nullified, with all participant times deleted, and the host chapter will be not permitted to host a Global Qualifier for a term of 1 season.  Should MultiGP believe that omissions or errors were malicious in nature, MultiGP reserves the right to remove the Chapter in question entirely.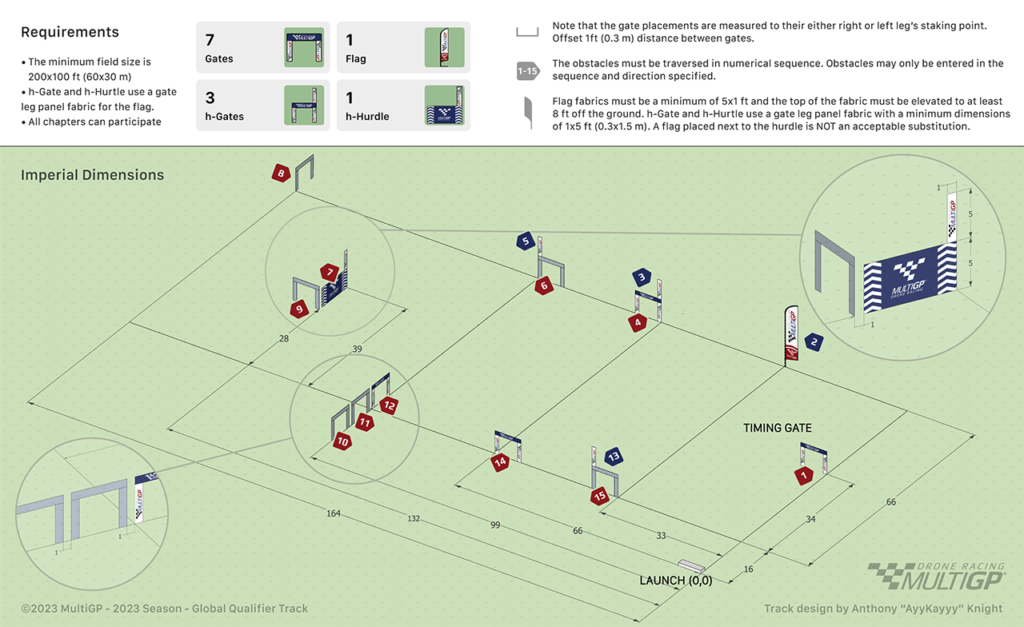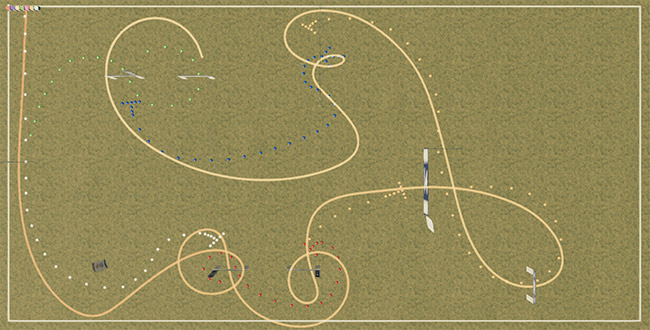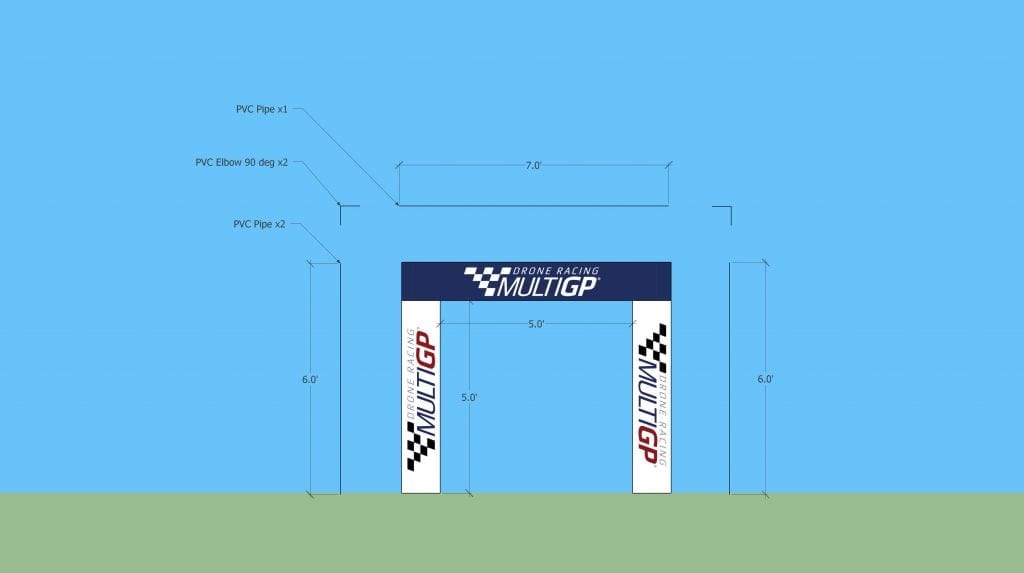 Racing Gates, a worldwide standard for your Drone Racing tracks.
MultiGP has developed racing gates that are simple to transport and setup. They are specific dimensions so your chapter can easily accommodate sponsor panels when applicable. Panels are shipped to your chapter as they become available through promotion efforts.
Upon progressing through the MultiGP Chapter Tier system, your group could also earn race flags to help your group design more varied race tracks.
Welcome to the world's largest drone racing league. Your rise to the top starts with a single click. It's FREE