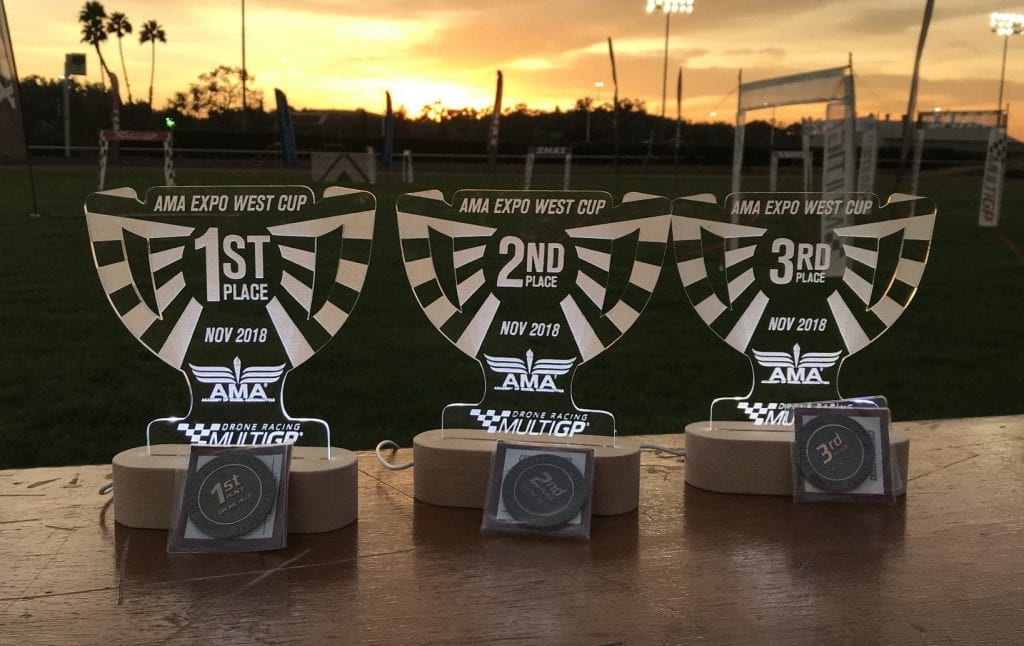 An exciting weekend came to a wrap Sunday evening after MultiGP presented Drone Racing on the Emax Drone Cup track at AMA Expo West 2018 in Pomona, California.
This year, the AMA selected a new date and a new venue for the annual event.  The Fairplex in Pomona afforded an expansive area for the trade show and new LIVE demo's of many disciplines within the AMA and similar industries.  There were Model Rockets, 3D Planes, Control Line Planes, RC Cars, RC Boats, Model Trains and much more, and of course Drone Racing with MultiGP.  (See all that was at AMA Expo West thanks to Crazy White Boy: https://www.facebook.com/skip.me.fpv/videos/10216350620025516
The drone racing schedule was diverse, affording a standard top-16 double elimination race down to a top-6 Round Robin on Friday for Prizes; Top-16 double elimination into Chase the Ace for the National Wildcard Spot, plus Freestyle on Saturday, and Team Racing Sunday.  The initial schedule called for some beginner-focused clinics and seminars, though the new pilots that attended received one-on-one assistance from crew and competitors alike, making them feel accommodated.
On the topic of accommodation, the AMA were outstanding hosts towards the drone racing zone; every morning and periodically throughout the day, they provided and topped up a cooler with ice and water, and dropped off food and snacks for "the crew" which easily fed most of the pilots as well.  In addition to nourishment, the AMA also provided two 57″ monitors that displayed the first-person view feeds of racing pilots and freestylers.
The course was built and managed by our local MultiGP Chapter OCMA FPV.  Bob Hunter and Rich Lee took extra days out of their normal lives to set-up early for media visits and tech set-up day, which ultimately was 8 hours of stand-up comedy.  They went immediately into the spotlight as demo pilots for an up-coming appearance on Boys Toys a show airing on AWE on DirecTV.
Friday Racing on opening day had pilots competing for their share of $450 in prizes from ReadyMadeRC and DiatoneUSA.  Qualifying was based on 1 lap "gate-to-gate."  The field narrowed from qualifying through the double-elimination brackets and once there were 6 pilots remaining, they each raced head-to-head in a round-robin format to decide the winner.  The pilots were so evenly  matched that there was a 3-way tie at the end between ScottyDoo the Top-Qualifier, FlyingBear and SFPV.  Those three then were sent to the grid to break the tie, and the finish was:
1st – Ken "FlyingBear" Loo
2nd – Scotty "ScottyDoo" Simmons
3rd – Colby "SFPV" Curtola
(re-live the race-off: https://www.youtube.com/watch?v=NyyF7XEt4d0)
Saturday brought the Wildcard Qualifier for the MultiGP Championships in Las Vegas, February 2019.  More pilots competed on the course than any other day, and qualifying was based a new "best 2 consecutive gate-to-gate" and the top-qualifier was Andy "DolmaFPV" Marachilian who slaughtered the fast-laps and TQ times.  Into the Top-16 Double-elimination Brackets the field went resulting with a final 4 of the previous night's champion, FlyingBear and DrobotRacer out of the Winners Bracket with PhluxyFPV and Royal from the consolation bracket.
The newer "Chase the Ace" format was ran with the final-4, and Ashton "DrobotRacer" Gamble swept the field by winning two rounds back-to-back (the format decides the winner by the champ being the first pilot to win heats twice) with a final podium:
Individual Podium:
1st: Ashton "DrobotRacer" Gamble
2nd: Johnathan "Royal" Huckabee
3rd: Ken "FlyingBear" Loo
4th: Chris "PhluxyFPV" Spangler
(relive Chase the Ace Round 1: 
https://www.youtube.com/watch?v=CaDikjbB0pg
 and Chase the Ace Round 2: 
https://www.youtube.com/watch?v=bfnqmzqT9dI
)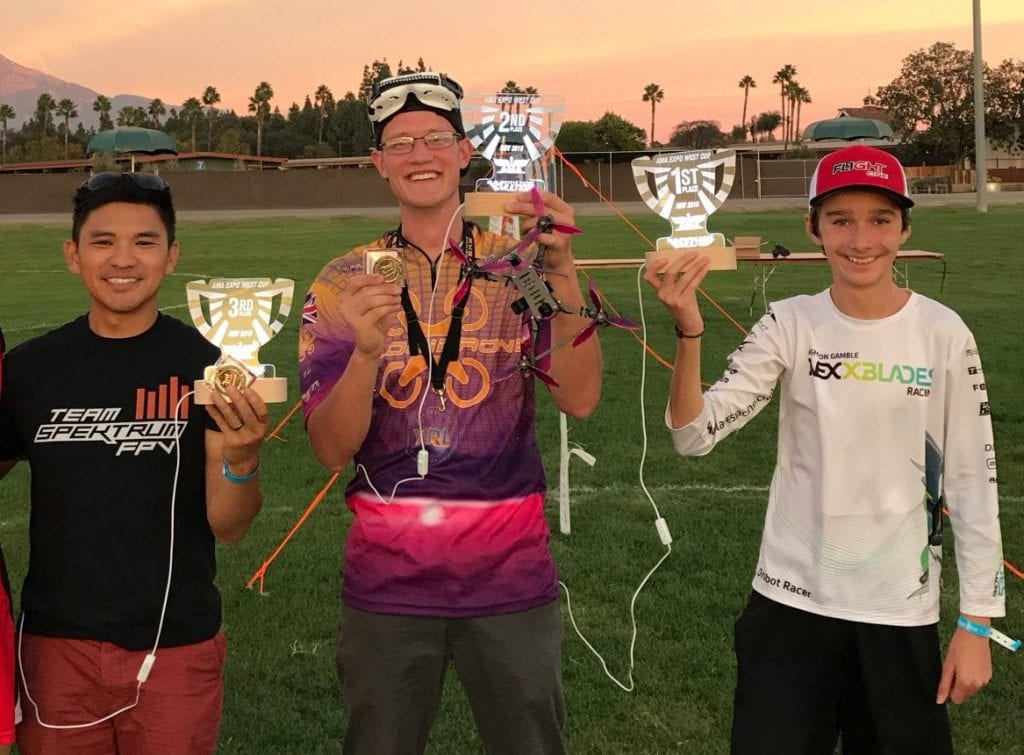 As DrobotRacer is already qualified for Las Vegas as a Contender, the wildcard was passed to Royal who had flown in for the opportunity from North Carolina, by way of Arizona!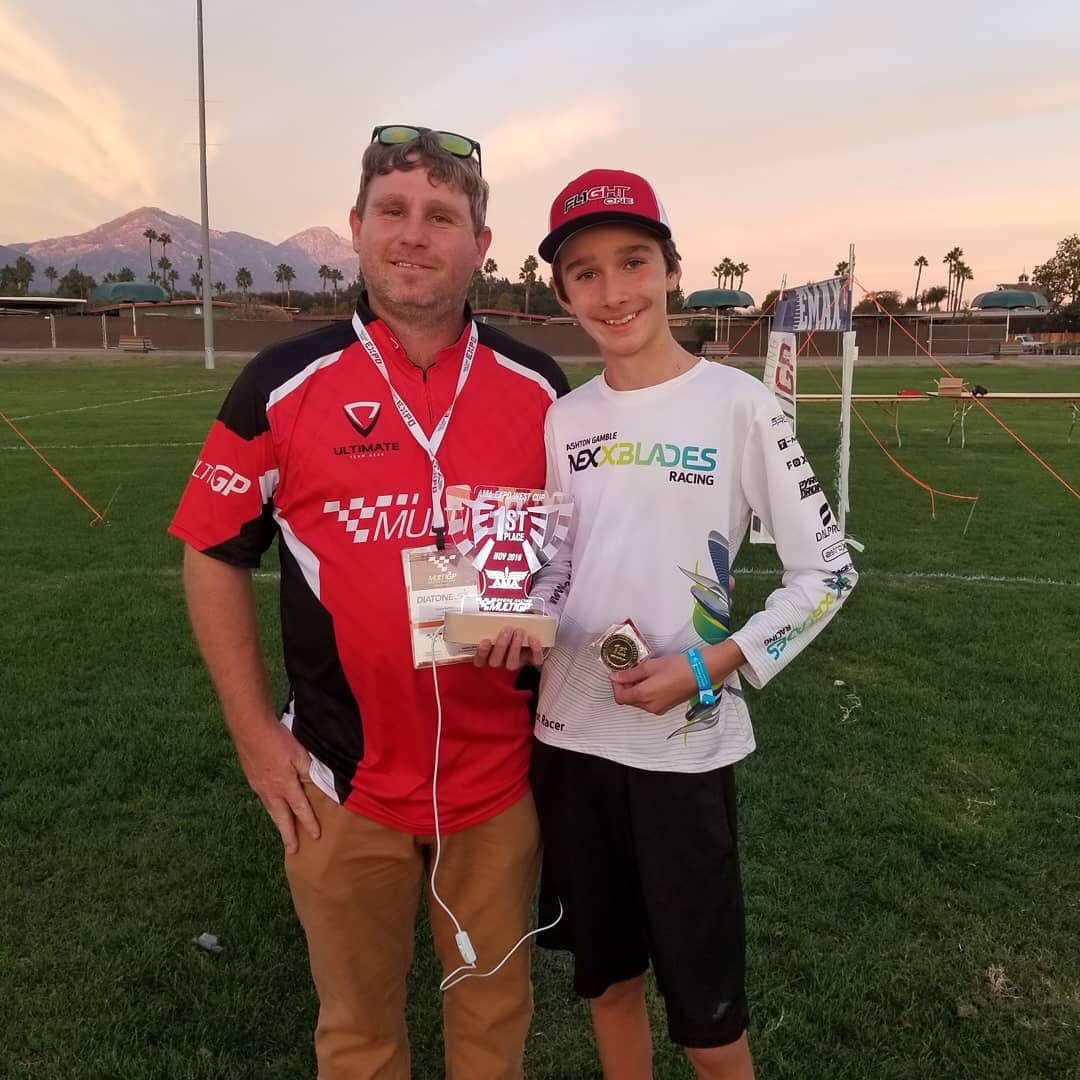 Rounding out Saturday evening, we opened up the Emax Drone Cup area for a freestyle competition, and were fortunate to have a renown panel of judges.  Armed to mark the criteria of Technicality, Flow/Music, Use of Obstacles, were: Jenn Minas from BrainFPV, Christopher Davis from Newbee Drone, and Josh Woodruff from Team Legit.  The competing pilots had 2 minutes to impress the panel, and the benefit of a 30s caution to right their crafts if necessary.  An additional $100 in gift certificates from DiatoneUSA were on the line, and there were definitely some highlight moments over the evening.
Freestyle Podium:
1st – Ken "Flyingbear" Loo
2nd – Scott "ScottyDoo" Simmons
3rd – Colby "SFPV" Curtola
(relive the Freestyle Competition: https://www.youtube.com/watch?v=IQ8TX7Vdyqk)
Into Sunday we went for Team Racing.  Building upon the successful "Round Robin" Format debuted the weekend before in Baton Rouge and on Saturday with the Final-6, the course was reversed, and a schedule was built so that all teams would meet each other once throughout the competition.  Also, we built upon some other team concepts by way of DCL and VRL where the teams of two would match their opposing team with 2 single head-to-heads, their highest ranked pilots against each other and their second ranked pilots against each other; then they would compete 2 vs 2 in a "big heat", in a race to collect 20 laps combined.  In an added twist, the pilots all self-pit stopped, which added an intense degree of athleticism to the competition!
Final Team Ranking:
1st – Son of a Pitch: Scott "ScottyDoo" Simmons, Scot "Nope" Woolums (15 pts)
2nd/3rd – Cannon Fodder: Ron "RocketRonbo" Rossetti, Aaron "KidDrone" Vliet (14 pts)
2nd/3rd – Hamburger: Ken "Flyingbear" Loo, Kyle "InteousFPV" Serrano (14 pts)
4th – Invasion of Privacy: Colby "SFPV" Curtola,  Daniel "iamspanky" Sung (5 pts)
5th – Tunnel Vision: Johnathan "RoyalFPV" Huckabee, Eric "SegFPV" Gever (3 pts)6th – Team DNF: David "HazardFPV" Spencer, Russell "Eyefly82" Moore (2 pts)
Thank you to our Team Racing Prize Sponsors, the pilots on the winning team each earned an Emax PowerTrain (4x Motors & ESC's) and Tattu TinyHawk LiPo's from Team Legit!
Example of a "Big Heat": https://www.youtube.com/watch?v=EL8I3uvBmrM and Relive all the races: http://mgp.livefpv.com/results/?p=view_event&id=292157
Three exciting days, 4 intense competitions, lots of champions crowned and a lot of laughs to be had.  AMA Expo West was one of the most exciting while "Chill" events of 2018.