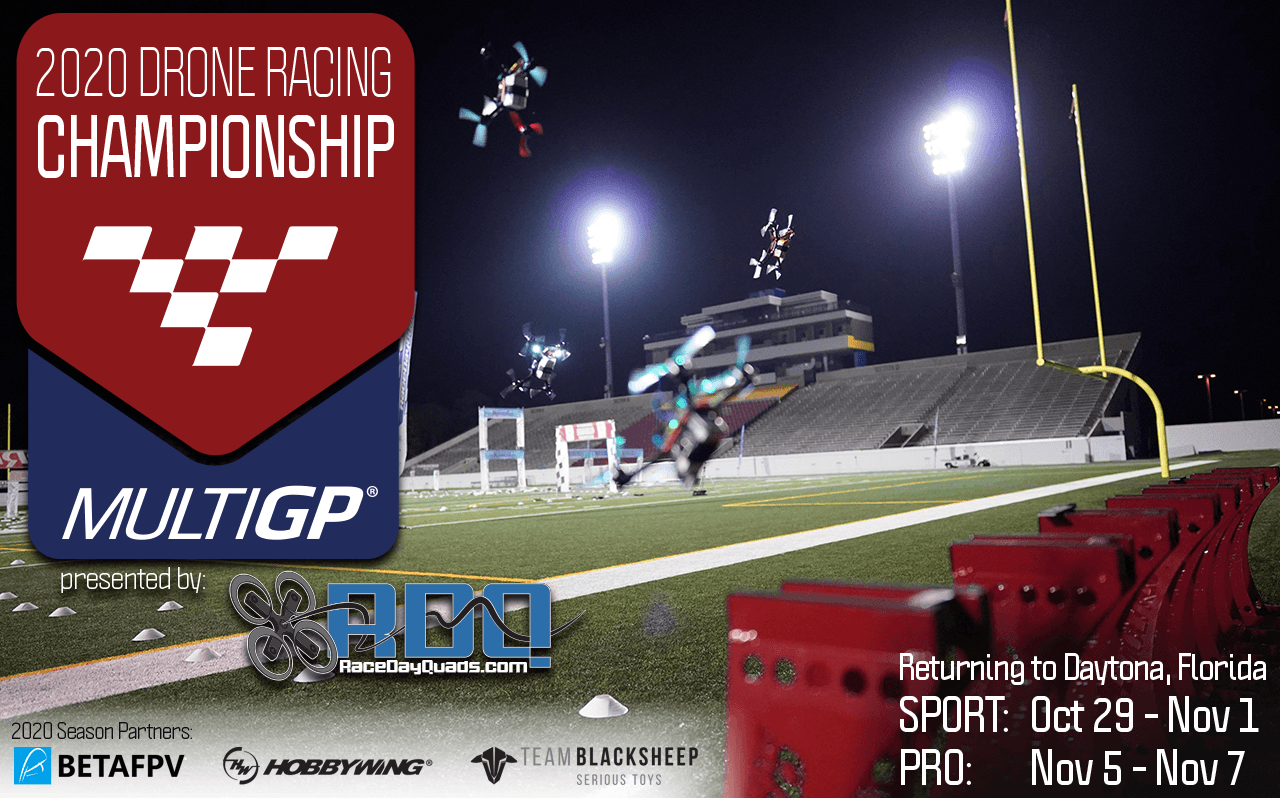 MultiGP is excited to announce The 2020 MultiGP Championship Presented by RaceDayQuads.com at Daytona Stadium, 3917 LPGA Boulevard, Daytona Beach, Florida October 29th through November 8th, 2020.
Sport Class Championship Weekend
The top-100 pilots in the Sport Class division will compete in the opening weekend Thursday October 29th to Saturday October 31st (Rain Date Sunday Nov 1) in the 2020 MultiGP Sport Class Championship presented by RaceDayQuads.com. With two Drone Racing Tracks on-site, the field will narrow over the course of the weekend down to the Top-16 to compete for the first-annual and second edition Sport Class Championship Title. Many Drone Racing Pilots in this field will be competing in their very-first championship, and perusing the roster of qualified pilots, this looks again to be the most evenly matched field of racers in MultiGP's tenure, it is anybody's game to win!
Pro Class Championship Weekend
Then, the stage is re-set for The 2020 MultiGP Drone Racing Championship presented by RaceDayQuads.com on the second weekend. Thursday Nov 5 to Saturday Nov 7 (Rain Date Sunday Nov 8) the top-200 ranked Pro Pilots will compete on two different tracks on-site, with the field gradually being narrowed to the Top-16 pilots to compete for the Pro Class Championship.  Will it be the reigning back-to-back 2-time MultiGP Champion Evan "HeadsupFPV" Turner who is gunning for the first-ever three-peat, or will there be another new MultiGP Champion, perhaps the Sim Racing sensation and Top-Qualifier Beckett "Noical" Verrilli; or someone getting their start at a MultiGP Chapter worldwide, ranked Globally, qualified for the championship and the winner of the "Chase the Ace" Final?
For more information and Pilot Tickets, please visit: www.MultiGP.com/2020champs