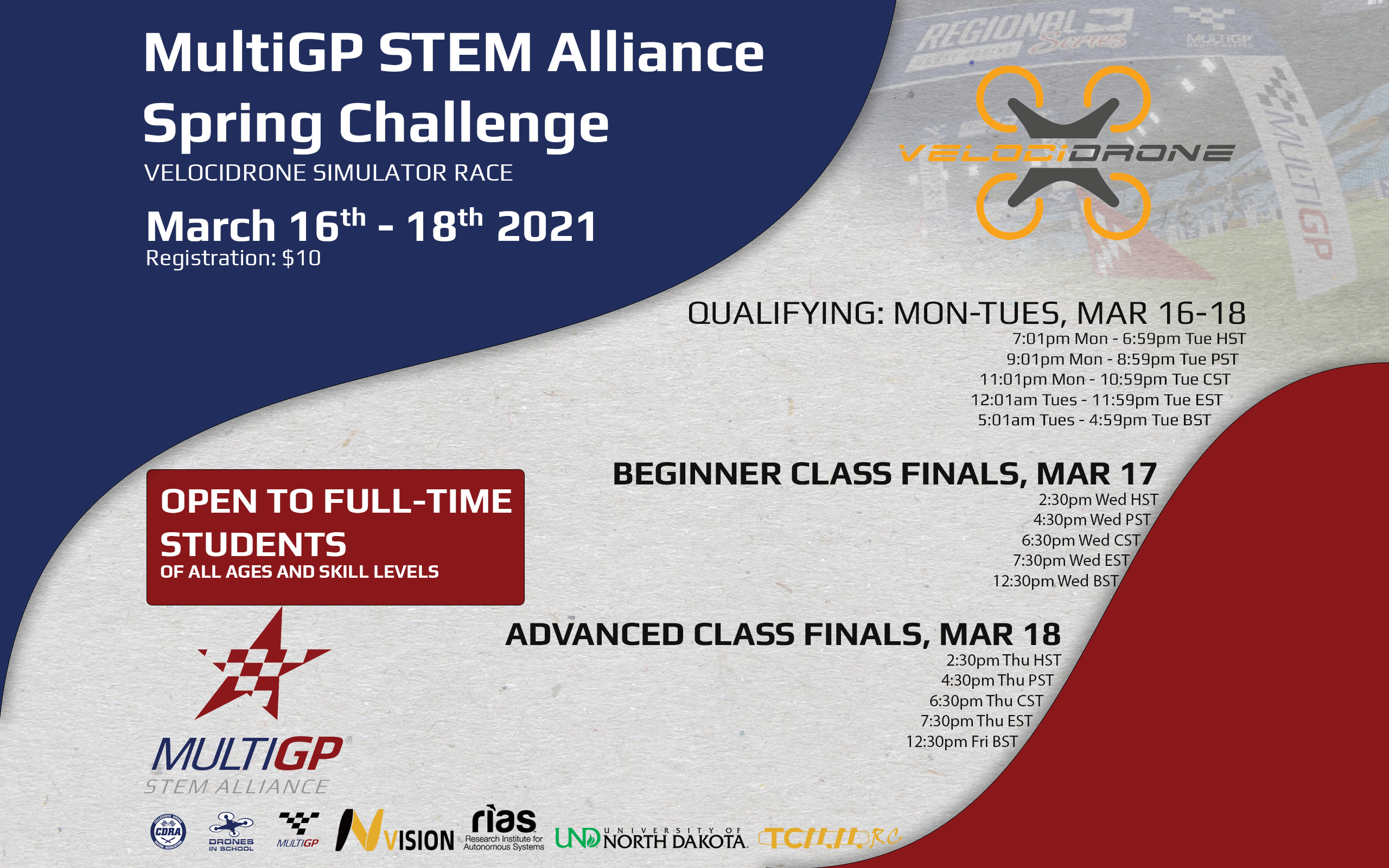 MultiGP STEM Alliance Spring Challenge
March 16, 2021 @ 12:00 am

-

March 18, 2021 @ 9:30 pm

EDT
$10.00
With the support of our partners at NVision/TCMMRC, The University of North Dakota, the UND Research Institute for Autonomous Systems (RIAS), Drones in School, and the Collegiate Drone Racing Association, the MultiGP STEM Alliance is proud to announce our fifth event of the 2020-2021 academic season with the MultiGP STEM Alliance Spring Challenge simulator race in VelociDrone, March 16th-18th. Open to full-time students of all ages and skill levels, elementary through college and university, pilots will qualify on Tuesday, March 16th and then be split into Beginner and Advanced groups. The Beginner finals start at 7:30PM ET on Wednesday, March 17th, followed by the Advanced finals at 7:30 PM ET on Thursday, March 18th. The Beginner and Advanced finals will be livestreamed with commentary from MultiGP's Joe Scully and Tiny Whoop's Jesse "JesseP" Perkins.
In addition to more prizes to be announced, the champion of each group will receive the recently released NVision MultiGP STEM kit, featuring a brushed, nano-sized FPV racing drone along with a radio, FPV headset, charger, and batteries. The NVision MultiGP STEM kit is designed for use with the MultiGP STEM Alliance curriculum, currently being rolled out at schools across the US and beyond.  2nd and 3rd in each group will receive MultiGP Swag and a Free Entry into the next Race of the Pilot's Choice!
If you are a current full-time student at any level, you can register for the event below. The registration fee is $10 USD. The honor system will be utilized for signups, but winners will be verified as full-time students before they can receive prizes. This is a Micro Class style race. You are welcome to use any of the Micro Class style drones in the Velocidrone simulator.
Schedule: