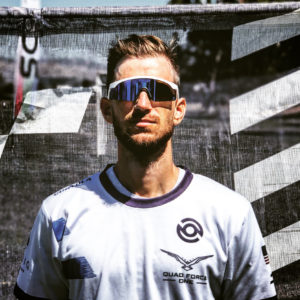 Thank you to everyone who has submitted Global Qualifier tracks for the 2022 race season.  Colby "SFPV" Cortola has painstakingly reviewed all the submissions and below you will find the top 9.  Click each pilot  tab to view an overhead view and flight of each track.  You can also click the image to get a larger view of the track.
To fly each track start in Velocidrone, then Track editor> Download Track> Type in the pilot name on the left "Player Name …."> Click Search> Find the track name, then Download.  Now go to Nemesis Mode> select your quad> select the track you just downloaded and play!
If you want to see a fly through click the  "123" Icon on the bottom right, then "View" next to any pilot, then "View Nemesis Flight".  When you are ready to race pilots at your skill, click the 2 arrows next to your name on the left to reset the racers.
Time to Vote
Click each tab to see the pilots submissions.  When you have found your favorite track, come to this page and log in.  You can only vote once and you MUST be logged in!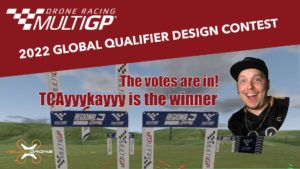 Hello Pilots!
The results are in!  One hundred and fifty pilots voted for this year's Global Qualifier track from our top 9 designs.  Anthony, AyyyKayyyFPV, Knight won by a margin of 1 vote over Leviathann with BonerFpv coming in third.  We appreciate all the work the designers put into this contest as well as the pilots who took the time to fly all the courses and vote.  Thank you again to SFPV for his work as well.  
The GQ season will open April 1st with the official publication of the GQ dimensions and layout plan.   You will then have until July 18th to attend or hold a GQ event.  Please note that we have removed the requirement to have held 3 races prior to hosting a GQ due to the shortened season.  Please read this year's rules to avoid any disqualification of your GQ results.  We look forward to announcing a Champs date very soon as well.
[vc_tta_tabs color="blue" active_section="1″][vc_tta_section title="BonerFPV" tab_id="1645062349376-9eedd5bc-ed41″]
[vc_single_image image="52344″ img_size="medium" onclick="link_image" title="Velocidrone Track Name: Boners MultiGP 2022 GQ Design"]
[vc_single_image image="52357″ img_size="Medium" onclick="custom_link" img_link_target="_blank" link="https://youtu.be/unamzmt1dsk"]
[/vc_tta_section][vc_tta_section title="Fastodon" tab_id="1645063327056-d349f191-177e"]
[vc_single_image image="52345″ img_size="medium" onclick="link_image" title="Velocidrone Track Name: 2022GQ 1 Fastodon"]
[vc_single_image image="52357″ img_size="Medium" onclick="custom_link" img_link_target="_blank" link="https://youtu.be/c9yu8n_hEWE"]
[/vc_tta_section][vc_tta_section title="Hyper" tab_id="1645063416962-42dd0c39-75b1″]
[vc_single_image image="52346″ img_size="medium" onclick="link_image" title="Velocidrone Track Name: Hyper CONE GQ 2022″]
[vc_single_image image="52357″ img_size="Medium" onclick="custom_link" img_link_target="_blank" link="https://www.youtube.com/watch?v=PX1zHeVsbBI"]
[/vc_tta_section][vc_tta_section title="Leviathann" tab_id="1645063541445-d0dafe4b-aa9d"]
[vc_single_image image="52347″ img_size="medium" onclick="link_image" title="Velocidrone Track Name: Leviathann-GQ-2022″]
[vc_single_image image="52357″ img_size="Medium" onclick="custom_link" img_link_target="_blank" link="https://youtu.be/jD2TqCdl2ZA"]
[/vc_tta_section][vc_tta_section title="MCK" tab_id="1645063602505-31c1d3a6-15cd"]
[vc_single_image image="52370″ img_size="medium" onclick="link_image" title="Velocidrone Track Name: MCK MGP GQ 2022″]
[vc_single_image image="52357″ img_size="Medium" onclick="custom_link" img_link_target="_blank" link="https://www.facebook.com/100005645287120/videos/444910657345444/"]
[/vc_tta_section][vc_tta_section title="Morbidfpv" tab_id="1645063644849-8700124c-5010″]
[vc_single_image image="52349″ img_size="medium" onclick="link_image" title="Velocidrone Track Name: MorbidFPV+GQ2022″]
[vc_single_image image="52357″ img_size="Medium" onclick="custom_link" img_link_target="_blank" link="https://youtu.be/9-28JZEZetU"]
[/vc_tta_section][vc_tta_section title="RAB_FPV" tab_id="1645063694564-ea2bdeef-e390″]
[vc_single_image image="52350″ img_size="medium" onclick="link_image" title="Velocidrone Track Name: RAB_GQ_2022″]
[vc_single_image image="52357″ img_size="Medium" onclick="custom_link" img_link_target="_blank" link="https://youtu.be/3OuHwsvk12U"]
[/vc_tta_section][vc_tta_section title="RoflcopterStL" tab_id="1645063751679-6d915e6e-3091″]
[vc_single_image image="52351″ img_size="medium" onclick="link_image" title="Velocidrone Track Name: 2022 ROFL GQ SUB2″]
[vc_single_image image="52373″ img_size="Medium" onclick="custom_link" img_link_target="_blank" link="https://www.facebook.com/100022723193486/videos/4718208934959741/"]
[/vc_tta_section][vc_tta_section title="TC AyyyKayyy" tab_id="1645063814297-c31f743d-6d0e"]
[vc_single_image image="52343″ img_size="medium" onclick="link_image" title="Velocidrone Track Name: 2022 GQ AyyyKayyy"]
[vc_single_image image="52357″ img_size="Medium" onclick="custom_link" img_link_target="_blank" link="https://youtu.be/5cCdoAna4hw"]
[/vc_tta_section][/vc_tta_tabs]
Voting is complete,  results to be announced soon