RaceSync is the official iOS app of the MultiGP Drone Racing League. It allows users to find and participate in local drone races held by MultiGP chapters worldwide. Over the last few years we have heard many requests for a dedicated app to make joining local races less cumbersome. This app release is the result of hard working volunteer programmers, donating their time and skills for the drone racing community. We would like to personally thank these rock star coders and drone racers: Ignacio Romero and Kristopher Kleva.
Get the official app of MultiGP – RaceSync on the App Store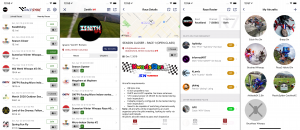 Log in with your free MultiGP account today to access the following features:
As a racer:
Find local drone races nearby
Instantly join nearby races
Easily access all your joined races
Check the video frequency assigned to you during the race
Check your current score during the race
Conveniently use your MultiGP QR code for special events
Add or edit the aircraft in your hangar
As a chapter Organizer:
Open/Close a race
Add/Remove pilots to a race
More to come!