Regional Qualifier Recap
The first Regional Qualifier in the Southwest Region came to a close last weekend.
From the san Francisco area…415 FPV and Teambaylands joined forces to host 2 qualifiers over the weekend with as many as 44 pilots competing in the qualifiers between both days. Pilots traveled from all over northern California and the Bay area. The events sponsored by FPVHQ, Dronedropbox, Randommoonfpv.
A big thank you to Ken Marshall of Birch Creek Ranch for hosting the amazing venue. The Regional Qualifier track was set up on Friday afternoon and was left up all weekend so practice flights could pay off. 4 practice rounds were run before noon. 5 qualifying rounds run before 3 pm and 32-person tournament for fun at the end.
Cory "Mewofpv" Ibanez hit 7 laps and 3 times to put him at the top of the national leaderboard.  Mewofpv also won Saturday's racing followed by Robert "JFK" Lacroix in second and Aaron "Inburst" Jones taking third. All in all, Saturdays qualifiers ran smoothly!
Sunday the wind kicked up and presented more of a challenge
Rain was predicted for later that afternoon, so the time crunch was in full gear and the pilots flew hard to finish up the race before the nasty weather hit. After several rounds of racing and some grueling competition
1st Colby "SFPV" Curtola
2nd Robert "JFK" Lacroix
3rd Elliot "Elliotskis" Irving
For 415 FPV and Teambaylands chapter organizers, the collaboration was special for them. Having two groups working together was crucial in making both qualifiers a success. 415 FPV and Teambayland organizers stressed quote, "It couldn't have happened without everyone's help" end quote. Congratulations on some great MultiGP Regional Qualifiers!
---
Second Annual Baltimore Drone Prix
The Baltimore Drone Prix kicked off last weekend in Baltimore, Maryland. This was the 2nd-ever Baltimore Drone Prix, now a staple in the 3-year running light city festival in baltimore. The Baltimore Drone Prix is a collaboration between Global Air Media, a UAV company, the Baltimore office of promotion and the arts, local artists Mccormack and Figg and of course MultiGP. The course inside a 75′ x 150′ netted truss enclosure, with almost a dozen led lined custom-made metal artistic structures inside to simulate the crane towers that line the adjacent harbour front in Baltimore. To maintain artistic integrity of the display, and to allow for a smooth and less-technical race course, the amazing race director Joe Ccully and local MultiGP pilot Cody "Dinosaur" Wright adjusted the artist designed original race layouts to make each crane or tower like a racing flag for a fast and flowing track. This truly showcased the speed and talents of drone pilots.  The crowds were large and loved it. 500-700 spectators, at any given time, made their way around the course taking in the action, more than 500 fans cheered on pilots for the final race at 11pm!
Pilots from Virginia, Massachusetts, Pennsylvania and across Maryland competed Saturday, starting with 5 practice rounds in the daylight, 4 qualifying rounds during dusk through dark, and then a MultiGP standard top-16 double-elimination bracket to determine the champion. MultiGP's head of web development, Slowpoke – Christopher Perry was the 2nd overall qualifier, he had some bad luck through the brackets to end up 5th overall. In front of a jam-packed crowd, the top-4 were:
4th – top-seed in the winner's bracket Andy Archiefpv Boem
3rd – 2nd top-seed in the winner's bracket Thomas T-rex Heenan
2nd – 3rd overall qualifier – Angelo angelo_re Re
And the 2018 Baltimore drone prix champion: top-qualifier William "Billster" Schuette who made his way out of the consolation bracket to sweep as the event champion, earning $1,200 cash for his efforts.
---
AMA REQUEST SUPPORT OF 336
In an urgent appeal, the AMA is reaching out to all pilots, FPV UAV AND RC: We need your help writing Congress to protect the hobby through the Special Rule for Model Aircraft (Section 336 of the FAA Modernization and Reform Act of 2012). Recently some industry stakeholders have publicly called upon Congress for an outright repeal of this rule. Make your voice heard at www.modelaircraft.org/protect336

---
Important Message About 2018 Lightrax XP Tour

Dear drone racing community, friends and families,
As April is now upon us, our team, comprised of FPV Lightrax and AdroneAline racing, doing business as Lightrax XP, have regrettably been forced to make a decision that we did not anticipate making.We will be postponing the Lightrax XP Tour with an official launch in February 2019. We are moved to make this announcement now in hopes of assuring that our participants and fans do not make travel arrangements or plans revolving around our previously released ambitious schedule. We are very optimistic that a launch date of February 2019 is will be a reality. In the spirit of full disclosure, we would like to share with you the reasonings behind our decision. We want to reinforce, contrary to what many will speculate, that this was not a budgetary decision. Please allow us to explain.  Our primary goal of littax xp, while providing an exceptional experience for pilots, is really focused on the experience for the spectators.  One of the key tools to enable that success has been delayed. As one could imagine, this venture is very large with many participating parties. We are building a company from scratch. The legal structure of growing this company is causing short term growing pains, which we see resolved in the near future. We are attempting to provide our experience coast to coast across the USA. The logistics of scheduling our events has been difficult, and we continue to make venue arrangements for our 2019 launch date. Our video production team is also excited about this venture. They too require a little more time to ensure that their product can be the best that it can be. Of course, investment partners and sponsorship partners continue to engage with our company, willing to continue working with us for our 2019 launch. The more time that we can curate these relationships, we know the more spectacular the experiences will be and the more cost effective we will be able to make the experiences. We share your disappointment but hope that you can join us in our enthusiasm for our february 2019 launch.
Sincerely,
Austin Wright
Acting CEO Lightrax XP Tour
---
Scully In Australia
MultiGP's very own race director, EVP of event production, and worldwide voice of drone racing is headed to Australia right now for the FPVR Aussie Open 2018.  The fastest pilot gets a full ride to the USA and the MultiGP 2018 International Open! Last year the Aussie Open introduced us to Thomas Bitmatta! Who will win the FPVR Aussie Open 2018?  We will get a full update from Joe Scully, we'll share results and some great video …coming next week in MultiGP News!

---
CIDR 2018 RIGGS Brewery Season Opener
The Central Illinois Drone Racers hosted their first season opener in the Riggs Brewery race series over the weekend. The weather was predicted to rain all day with 30 mph winds, but the drone gods must have heard about the race because the weather was almost perfect with no rain at all and no wind until the finals. 30 pilots meeting up some traveling several hours from St. Louis, Chicago, and Indianapolis to race. Two DRL pilots, Jacob "Jawz" Schneider and Jerrod, "Jrod" Qullien also racing at the event. The event sponsored by Riggs Beer company, Horizon Hobby, Falcon Hobby Supplies, Whitenoise FPV and Central Illinois Drone Racers. Brad Ryan getting TQ and running away with the triple a-main to win intermediate class! Check out this dvr of him battling it out with Shawn "Shames" Ames. Chirag Chaudhari also had a great day in qualifying taking the third spot in intermediate qualifiers with just a Babyhawk 3″, Shawn "Shames" Ames taking second and Brad "Beerad" Ryan taking first. Armando "Mondo" Gallegos and AK numbers battling it out for 9 laps and showing why 6s is the future while other pilots such as drl's jake schneider struggled to pull 8 without killing batteries in 2 minutes. Jamie Ferrell made an impressive CIDR debut taking the last spot in the triple a-main and knocking Jawz into the b main. Jacob "Jawz" Schneider came back– winning every heat of the a-main to take home the win! Nick White the hardworking chapter organizer for the Central Illinois Drone Racers the best part about organizing the race was the great turn out despite the weather forecast and meeting up with all the pilots in person after the long winter. After some intense racing here are the top pilots in Pro Class
1. Jacob "Jawz" Schneider
2. Anthony ""AK Numbers" Kuhns
3. Kevin "Whitenoise" Lee

---
Reno Air Races Final Episode
In 2017, the Reno Air Races partnered with MultiGP to bring the National Drone Championship to the National Championship Air Races and takes to them we were included in NBC Sports National broadcast of the event. The three-part series was nationally televised for the first time on March 31st. Over 100 of the fastest pilots in the nation joined forces at the Reno Air Races to battle it out for their chance to take home the national championship title. Catch the intensity of the competition and watch the very moment Alex "Captain Vanover" Vanover who was only 17 at the time — take the title as the MultiGP National Drone Racing champion. Don't miss out on the final episode set to air this Saturday at 2:30 pm on NBC Sports.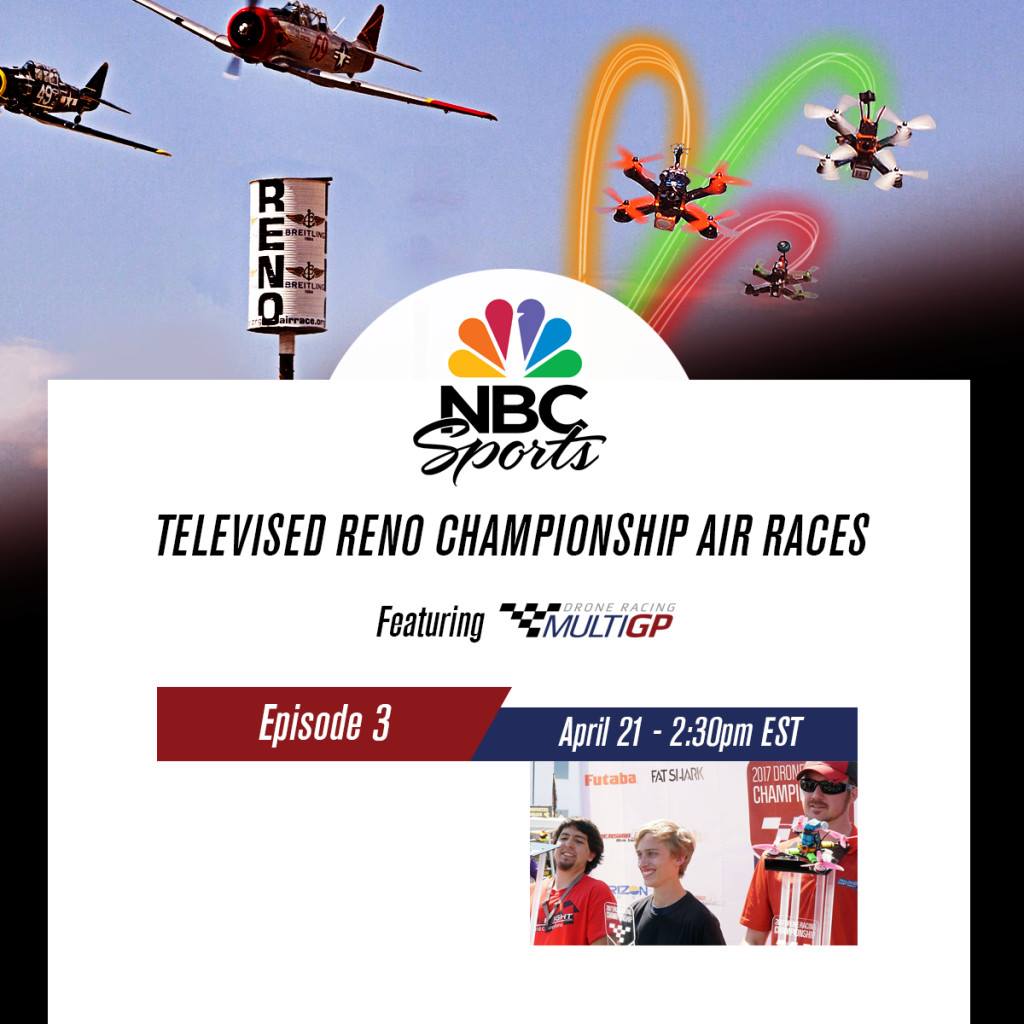 ---