The 2023 MultiGP Global Qualifier has ended. Nearly 1,000 pilots thousands of miles apart competed on the same track from April to July, to record their best time over three laps. 
The Global Qualifier offers the opportunity to all drone racing pilots around the world to participate in qualifying and ranking.  The track is voted on and chosen by the MultiGP community each year and then replicated hundreds of times at MultiGP chapter flying sites around the world. 
Before commenting on the Global Qualifier 2023 results and standings, let's take a look at the statistics.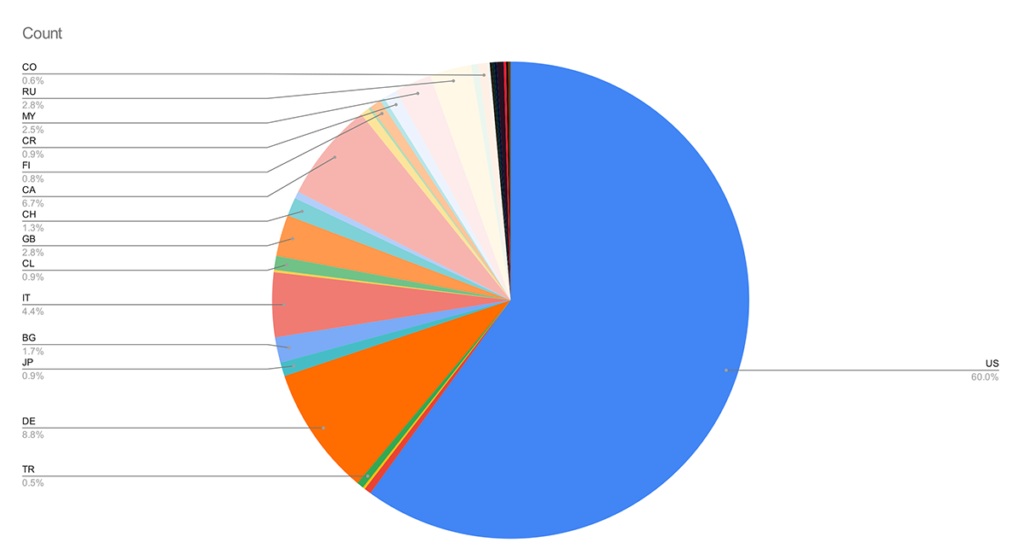 Pilots representing by country
US 🇺🇸 384 
DE 🇩🇪 56 
CA 🇨🇦 43 
IT 🇮🇹 28 


GB 🇬🇧 18
RU 🇷🇺 18 
MY 🇲🇾 16 
CH 🇨🇭 8 
BG 🇧🇬 6
CL 🇨🇱 6 
CR 🇨🇷 6
FI 🇫🇮 5


CO 🇨🇴 4  
TH 🇹🇭 4
GB 🇬🇧 18
JP 🇯🇵 6


TR 🇹🇷 3
KR 🇰🇷 3
IC
3
PR 🇵🇷 3 
MX
2
AU 🇦🇹 1 
FR
1
CN
1


SE
1
LI 🇱🇮 1
GT 🇬🇹 1
ID 🇮🇩 1
+ 100 pilots compared to 2022
+ 111 pilots compared to 2022
Thanks to Amanda "PiFly" Lipski we also have a special statistic regarding the women who participated in the GQ this year. 
This year there were 23 women on the GQ leaderboard, 12 of which had sub minute times.
Like Amanda said, "It's so incredible to see the increase of female presence in drone racing! Congratulations to everyone on this leaderboard, you are an inspiration to the future women of drone racing!!!"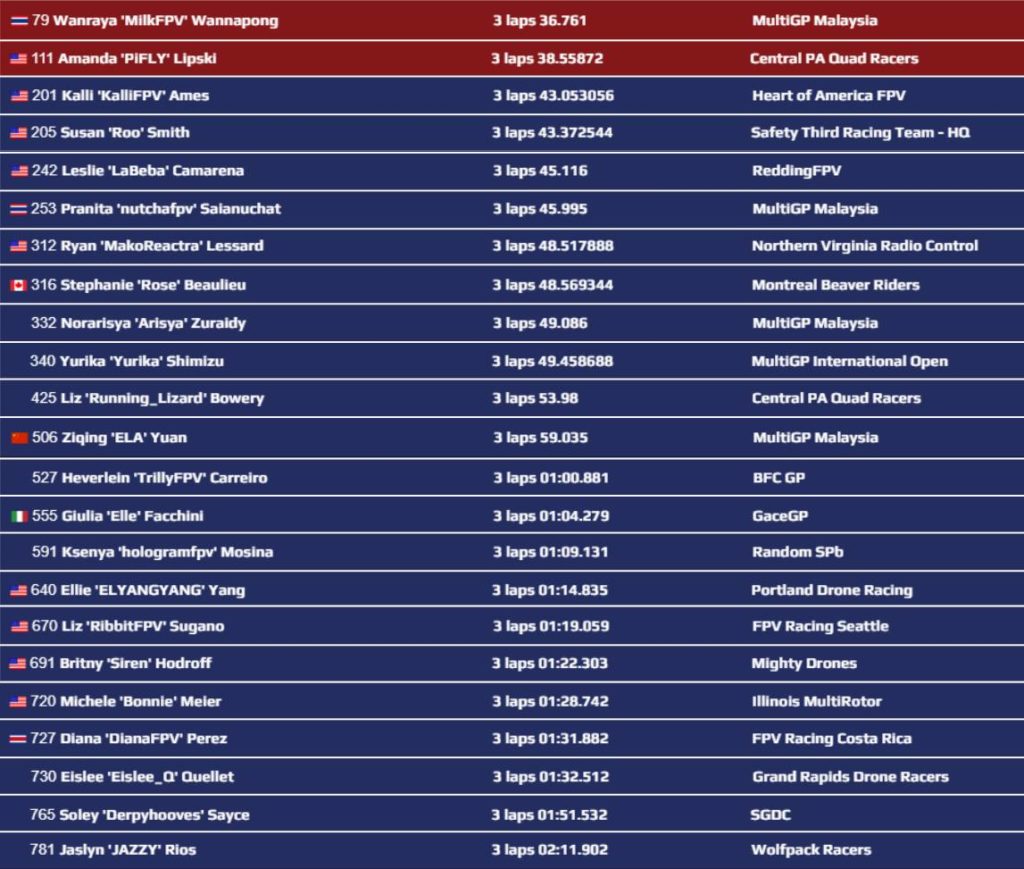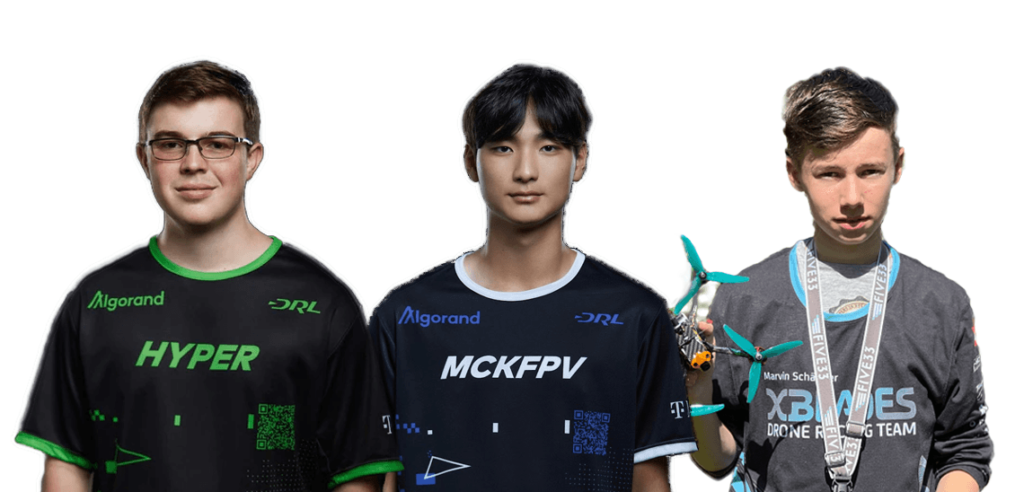 And we finally come to this year's Global Qualifier results.
First big surprise comes from the top of the mountain. The defending champion and unanimously considered the fastest pilot in the world, MinChan "MCKFPV" Kim, is not in first, but in second position with a 28.417 on three laps.  In first position we find an increasingly fast Mason "Hyper" Lively (28.307) who confirms this year's state of grace and promises a battle to the last lap at the Championship.
The MultiGP Global Qualifier was created to provide ranking for pilots in order to qualify for the MultiGP Championship to be held October 24-29, 2023 at No Quarter Ranch in Citrus Springs, Florida. In third place Marvin "MARV_FPV" Schäpper, a very fast pilot from Liechtenstein, jumped from 7th to 3rd position last weekend at a Global Qualifier race held in Italy.   With an impressive 28.794 he clearly wants the world of drone racing to notice his speed and ability!  This is followed by many pilots from previous years, and some important new entries like Kang "MODOFPV" Changhyeon from Korea in 6th, Lukas "CrysonFPV" Böhm from Germany in 14th, and Yuki "YukiHashimoto" Hashimoto from Japan, the 2023 MultiGP World Cup winner, in 17th!
One of the biggest years in drone racing was 2019, with over 1,200 pilots competing in the GQ.  Covid negatively affected the ability for pilots to fly and it is great to see an increase in the number of pilots on the list.  This year we saw 393 pilots that did not compete in 2022, an increase that makes us look forward to the growth in our sport continuing all across the world.  2023 saw 28 countries compete, and a growing number of pilots from each country as well.
The most impressive thing to notice in looking at the recorded times, is that within the span of 10 seconds, which means a 3-second difference with each lap, are the top 150 pilots who will be eligible for a PRO Class ticket to the 2023 Drone Championship!
This certainly makes it clear (better than any words could say) how the level of competitiveness in drone racing has risen in recent years and shows the increase in hype and eagerness to attend the MultiGP Championship in October!
Pilots who qualified in the Top 150 will soon receive instructions on how  to purchase their Ticket for PRO Class and the same for Top 100 Sport class Pilots.
So here's the final 2023 Global Qualifier Leaderboard: