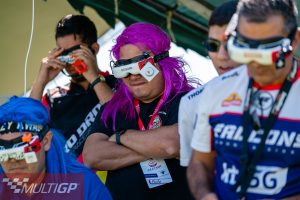 June 29th and 30th two Global Qualifiers were held in efforts to increase the roster and solidify pilot seats for the 2019 MultiGP Championships. The first transpired on Saturday in Fort Worth, Texas with Cowtown Drone Racing while the second transpired Sunday in Muncie, Indiana at the 2019 MultiGP International Open presented by Team Blacksheep.
89 Pilots flew the Global Qualifier Course in either location, with 76 of them achieving the 3-lap minimum to be ranked in either the Pro or Sport Class Division. In total, 38 were ranked for the first time at the event in Indiana, 2 new pilots were ranked in Texas, taking "the List from 399 to 439 Pilots ranked Globally.
While there were pilots running the track for a 2nd or 3rd time, only 50% of the returning pilots bettered their previous times, for a total of 58 pilots being shuffled in or shuffled up the leaderboard.
8 pilots were able to slide into the Sport Class Division (positions 201-300 on "the List") while 2 were able to improve on earlier efforts to remain in Sport Class. Matt "Squawk_1200" Walker went from 282 to 266 with a Fastest-3 Consecutive Lap score of 75.3 in Texas, while Roger "RogerB" Bess improved his time to 80.1 to remain in the division in 292nd. Tom "fireduck" Idland was the newest and highest seed addition to Sport Class with a Fastest-3 Consecutive Laps Score of 66.656 in Indiana to sit 211th on "the List", making him currently the 11th overall seed for the Sport Class Championships, after flying the GQ Track 10 times at International Open.
Of the 39 pilots moving into or up in the Pro Class Division (positions 1-200 on "the List"), 14 of them were personal best efforts after multiple qualifiers, and 25 of them were running the GQ Track for the first official time. Mark "2dogrc" Grohe who was on the bubble last week in 200th, moved up 3 spots with a 65.3-second score to sit in 197th, Joaquin "Jbox" Ybanez climbed from 109th to 37th with a score of 47.1 in Texas and Terry "Beastmode" Arscott ran another personal-best to remain in the top-20 after running the full 10-packs available at IO.
Colby "SFPV" Curtola had the best International Open possible, winning Team Racing with his team Velocidrone-A, winning the Mega Class double-A Main Championship to earn a trip to Korea, finishing 3rd overall in the FAI Team Selection to earn a trip to China, and moved up 5 positions globally to be ranked in the #15 spot on "the List" for an almost guaranteed slot at the 2019 MultiGP Championships. His time was 43.5 (a 14.8, 14.4 and 14.2 on a 3-lap run) for 15th, during one of his 10 packs flown on the GQ Track at IO.
The biggest jump into the Global Qualifying Ranking was by the newly crowned 2-time International Open World Cup Champion Thomas "BMSThomas" Bitmatta (2017 & 2019). He slid into 5th place with a Fastest-3 Consecutive Laps score of 40.98, following a 13.703, 13.784 and 13.493 on laps 4, 5 and 6 on a 6-lap 1:27 run. Officially under timing, BMSthomas only flew it twice out of the ten eligible runs he could have run.
Several other pilots took advantage of the GQ track being set-up at International Open on Sunday: Spanning 69 heats from 10am to 6pm, 82 pilots flew it under official qualifying at least once, 10 flew it twice, 7 flew it three times, 10 flew it four times, 1 flew it 5 times, 7 flew it six times, 10 flew it seven times, 4 flew it 8 times, 4 flew it 9 times, and 24 pilots maxed out at ten packs. Jeff "cyberdrone" Pitoniak and Brent "Drone_Boss" Merrick also flew the maximum 10 qualifying rounds to join the Sport Class in 277th and 269th respectively. Climbing into or up in Pro Class after running the full 10 packs were also: Doug "NashtyFPV" Nash (170th), Guttorm "GutiFPV" Dyregrov (162nd), Ruben "AgentOrange" John (133rd), Joshua "Zstone" Zelmon (112th), Jose "Quino-fpv" Quinonez (110th), Steffen "STM" Melum (101st), Kent "Thumbs17" Beal (98th), Kyle "Twidgit" Buell (84th), Ken "FlyingBear" Loo (68th), Robert "JFK" Lacroix (66th), Bryson "Redfive" Hagerman (64th) and Seth "SethPV" Griggs (48th).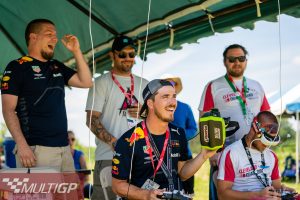 With the 439 Pilots now ranked globally, with the current Sport Class Cut-off being 3 laps in 81.4-seconds (3 x 27-second laps up from 3 x 30-second laps last week), and the Pro Class Cut-off moving to 65.5-seconds (or 21.8 seconds a Lap up from 23.14 last week).
This coming Saturday there are two qualifiers on the Calendar. Rocket City FPV Racing will be hosting their first Global Qualifier in Huntsville, Alabama, and RatRaceFPV will host their second Global Qualifier in Gormley, Ontario, Canada.
See the entire schedule of Global Qualifiers Here – https://www.multigp.com/championships/2019-multigp-series-qualifier-schedule/
And The Global Qualifying Rankings or "The List" here – https://www.multigp.com/championships/2019-multigp-series-global-qualifier-results/