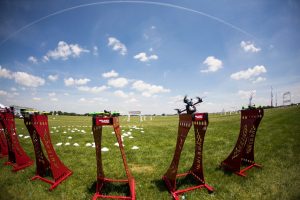 While there were two qualifiers on the Calendar this past Saturday weather changed the plan and just Rocket City FPV Racing hosted their first Global Qualifier in Huntsville, Alabama.
5 New Pilots were added to "the List" taking the total up to 444 Pilots ranked Globally to decide the top-200 for Pro Class and top-100 in Sport Class to be invited to the 2019 MultiGP Championships.
In Huntsville, Christopher "Killer_Beeman" Beeman flew the Global Qualifier track for the first time with a strong opening of 47.1 on his Fastest-3 consecutive laps to start his season in the #39 spot. Other pilots flying for the first time in 2019 were: David "Minichado" Machado, Dave "Muki" Avery, and Luis "Nytro" Padilla all breaking the top-200 in Pro in their first Global Qualifier, ranking #137th, #144th and #175th respectively. Meanwhile, Skylar "QWZY" McDaniel also flying in his first Global Qualifier kicks off his season in the #53 spot in the Sport Class.
Returning pilots Doug "Flynby" Ostler climbed the ladder 18 spots to the #102 Seed in Pro Class with a Fastest-3 Consecutive Laps score of 53.436 and Jacob "X-15" Houck moved up 17 spots to the #34 spot overall with a Fastest-3 Consecutive Laps score of 46.443.
The Pro Class cut-off moves up to 65.35-seconds for a fastest-3 consecutive lap effort, or an average of 21.78 seconds a lap, and the Sport Class Cut-off moves to 80.65 for a fastest 3-laps score, or 26.88 seconds a lap.
Coming up this weekend, there are a record number of Global Qualifers scheduled with 12 on the calendar.  More pilots will be attemping to climb or enter the Global Ranking in  Silverado, CA; San Francisco, CA; Nampa, ID; West Palm Beach, FL; Pullman, WA; Spokane, WA; Sunnyvale, CA; Starke, FL; Palm Coast, FL;, Baton Rouge, LA; New Orleans, LA; and Gormley, ON, CA.
See the entire schedule of Global Qualifiers Here – https://www.multigp.com/championships/2019-multigp-series-qualifier-schedule/
And The Global Qualifying Rankings or "The List" here – https://www.multigp.com/championships/2019-multigp-series-global-qualifier-results/